Op-Ed: Theatre is Worth the Commitment
When people watch theatre, many don't understand just how much effort goes into putting a show together and just how much motivation you must have to be in a production.
This is my first year at the School. I did volleyball and the fall play, Peter and the Starcatcher, and although I was in the ensemble, I was still called at least once or twice a week—even more often the closer to the premier.

I found it difficult to manage both commitments, while also getting accustomed to a new school and maintaining a social life.

Currently, I am in the spring musical, Something Rotten. The rehearsals consist of learning new songs, dancing, and practicing scenes. I have a bigger role than I did in the fall, and although I'm not a lead, I get called to rehearsal almost every day.
"
One of the most rewarding things I experience is seeing a show come together.
If you are a lead, you are at rehearsal every school day from 3:30 to 5:30 p.m—not to mention the six-hour weekend rehearsal beginning at 10:00 a.m. on a Saturday.
Most days, it takes me 50-minutes to get home. With traffic, it can take over an hour. That means on the weekdays, I find myself getting home at 6:30 p.m. This doesn't give me a ton of time to balance everything I need to complete: homework, dinner, shower, and texting friends.

When I tell my friends that I rehearse on Saturdays until 3:00 p.m., they often ask me why I would give so much time to something that will end after three or four performances. Truthfully, sometimes I don't have the motivation to wake up at 9:00 a.m. on Saturday. It can be hard, especially knowing that I'll be practicing the same dance or song for six hours, critiquing the finer details to make sure it looks good.

But one of the most rewarding things I experience is seeing a show come together. After all the effort to make it as perfect as it can be, finally seeing it all come together is extremely gratifying.
An important aspect of a show's success is the chemistry between the actors. The more time the cast spends together working on a show, the more their bond grows, which shows when the curtain goes up.

Although acting can be stressful, especially with balancing other responsibilites, my castmates and directors make it extremely enjoyable.
Leave a Comment
About the Contributor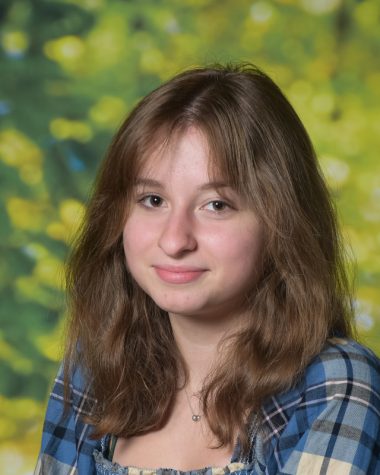 Charlotte Wolfstitch, Journalist
Charlotte is a 9th-grade student in her first semester with The Gator
. She likes performing arts, listening to music
 and
spending
 time with friends. She
is
excited for
her upcoming years writing for The Gator.