Superbowl 50 Underwhelms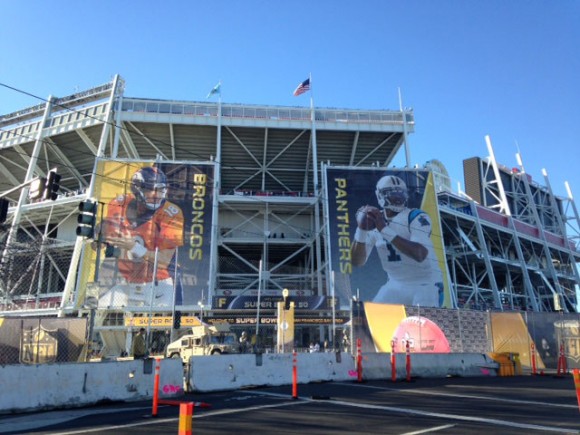 Super Bowl 50, the most watched television event in American history.
This year it raked in 167 million total viewers. From Peyton Manning's supposed last game to Cam Newton's first Super Bowl appearance, the big game was full of excitement and suspense. But how does it stack up to previous Super Bowls?
The Players
 All eyes were on the Panther's Cam Newton and Denver's Peyton Manning as they both had something to prove. Newton, playing in his first career Super Bowl, was predicted to shine after coming off an incredible 15-1 regular season. Manning, likely appearing in his last Super Bowl, had a lot to play for as well.  
Having recently come back from injury, Manning played a decent game. He threw one interception and was held without a touchdown pass, but steadily moved his team down the field. Broncos outside linebacker Von Miller justly won the coveted MVP. He came up big, forcing two fumbles and playing stellar defense throughout.
Newton was humbled by the Broncos defense, fumbling twice and throwing a costly interception. He threw poorly, missing his receivers on numerous occasions.
The Commercials 
This year, the commercials just didn't stack up. Although there were a few gems—Hyundai's "Ryanville" featuring Matt Reynolds—most of them were boring and did not have the zeal expected.
Some of this year's fan favorites included the commercials from Doritos, Mountain Dew, and Heinz. 

The Halftime Show
https://www.youtube.com/watch?v=c9cUytejf1k
 Starring Beyoncé, Bruno Mars, and British rock band Coldplay, much was expected of the performers. But how did it compare to last year's wildly popular Katy Perry halftime show?
Coldplay started out the show with their hit "Viva La Vida," and continued with snippets of other songs. Afterward, Bruno Mars and Beyoncé took over the stage, performing "Uptown Funk" and "Formation," outshining the headliner.  

Mars and Beyoncé joined with Coldplay to wrap up the Halftime Show, performing Fix You.

Super Bowl 50 was destined to be the the best Super Bowl yet, but with a slow, defensive game, average commercials, and an underwhelming Halftime Show, it didn't live up to expectations. On the whole, this year's Super Bowl was a let down.
Leave a Comment