Navigating Issues of Age and Consent
In light of recent high-profile sexual assault cases at independent schools, the Upper School gathered Tuesday, April 26, for an assembly that aimed to help students navigate issues of age and consent in their romantic relationships.
Titled "Rights, Responsibilities, and Respect: Educating Students About Interpersonal Misconduct," the assembly was run by Schwartz Hannum PC, a firm that specializes in representing schools.
The event kicked off by providing a brief overview of last year's sexual assault case at St. Paul's in New Hampshire, where Owen Labrie was found guilty of luring an underage female schoolmate into a sexual encounter.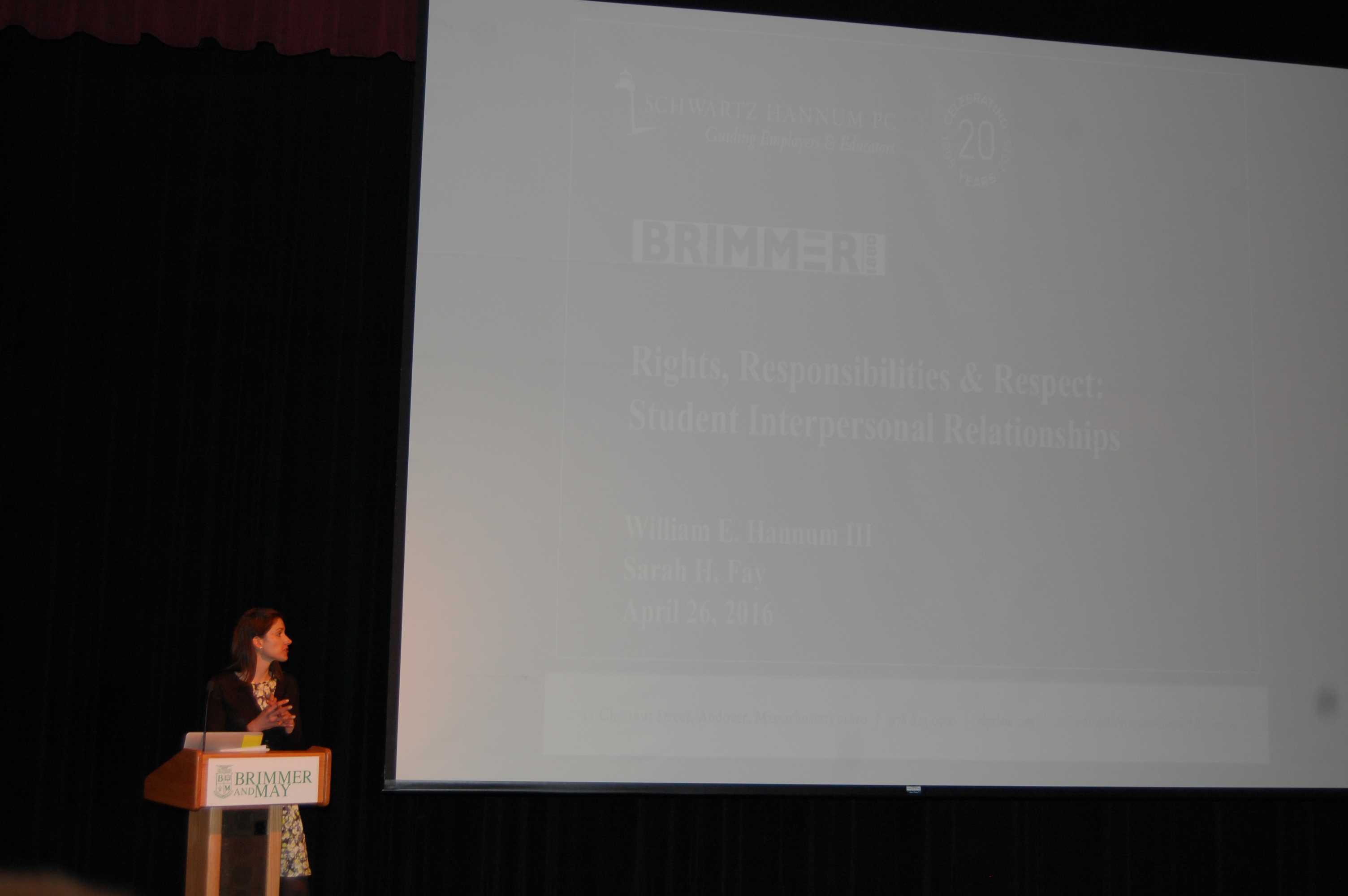 Students learned about the age of consent, and how it varies in different states. According the Massachusetts Statutory Rape Law, which the lawyers focused on, "whoever unlawfully has sexual intercourse or unnatural sexual intercourse, and abuses a child under 16 years of age, shall be punished by imprisonment in the state prison for life or for any term of years or, except as otherwise provided, for any term in a jail or house of correction."
With this in mind, students discussed hypotheticals, including the appropriateness—or lack thereof—of a senior peer mentor who asks a menthe, in this case a freshman girl, to "hang out." As the senior maintained a position of authority, Brimmer students found this case particularly inappropriate.
Students also discussed hypotheticals involving student-teacher relationships, and under what conditions (if any) it is acceptable for students and teachers to communicate with each other beyond school walls. Students seemed to agree that context plays a critical role, and that on certain field trips, for example, it makes sense to share cell numbers to ensure safety and peace of mind. What crosses the line, though, is if students and teachers text each other for non-school related purposes.
"I think it was a good idea to inform us of these things, but the way the lawyers went about it was as a little disengaging," said Raymani Walker '17.
"The lawyers meant well in trying to teach us about the legal danger of engaging in certain physical relationships and how much trouble we can get into," says Liz Teklu '17. "But what we really need is a sex-ed class. We need to educate kids, not just tell them what they might be doing is wrong."
Upper School Head Joe Iuliano says the School "strives to provide the best education possible, and we look to improve health education for our students going forward—as we do with everything."
In December, Gator editor Liam Johansson '17 included a poll in his story, The Problem with Abstinence-Only Sex Education.
[polldaddy poll="9227311″]
Leave a Comment