Gators Fall in NEPSAC Tourney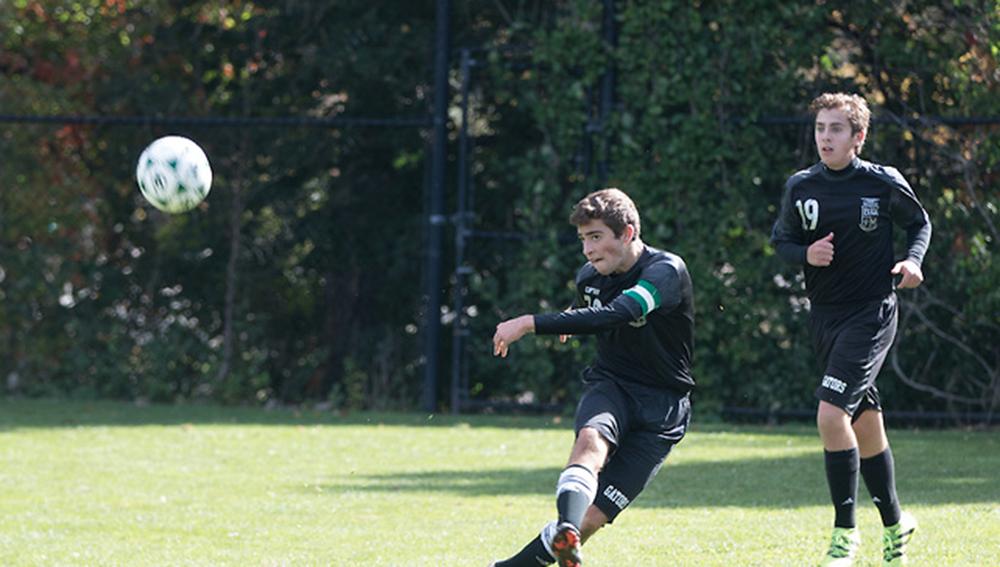 In an exciting overtime match-up, Varsity Boys' Soccer travelled to Connecticut last Wednesday to play #2 seed Storm King in the first round of the NEPSAC tournament.
Despite losing 1:0 in overtime, the #7 seed Gators played what many described as the best game in years.
"The game was very exciting," said midfielder Dylan Rigol '18. "I really thought we were going to be able to pull through there at the end. It was really feeling like a Cinderella story."
The Gators began the game conservatively, focusing on defense rather than scoring. Once the Gators found their footing on the professionally-sized field, however, it was game on. The team began to dominate the play, with quality scoring opportunities in the first half.
The second half began 0:0. Once more, the Gators pushed up the field to establish scoring opportunities. Late in the second half, the ball found striker Ben Ernest '19, who dribbled past a defender for a one-on-one with the keeper. He fired the ball to the top corner, just missing the net and hitting the post.
Storm King had its best chance of scoring with a penalty kick, which also hit the outside post, keeping the Gators' hopes alive. After two hard fought halves, the game went into overtime.
"I felt confident going into overtime," said defender Anthony Anderson '17. "It just proved to me that we definitely could win."
With only 30 seconds to go until penalty kicks, Storm King took advantage of a free kick, which launched the ball into the top corner of the net, ending the Gators' strong season.
"This was not only the best game the Gators played all year, it might very well be the best game we've played in my entire career here," said four-year starter Alexander Dolan '17, despite the loss.
With a strong showing in NEPSAC, other teams will be sure to take note when preparing for next season.
Editors' note: Liam Johansson '17 played as keeper for Boys' Varsity Soccer, and he also serves as Managing Editor of The Gator.
Leave a Comment