As Team Rebuilds, Prospects Look Good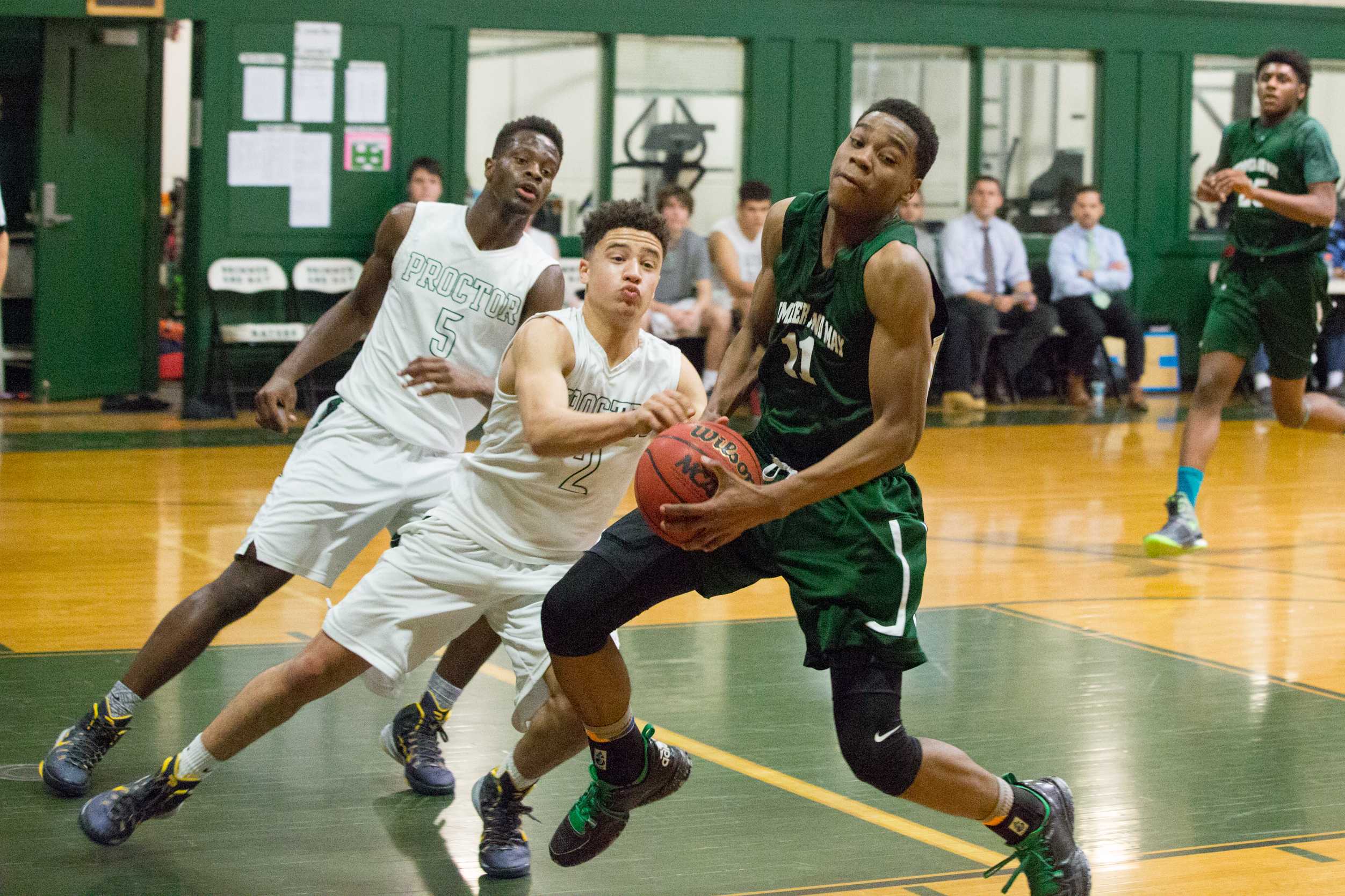 After a long and successful fall sports season, basketball is finally underway—and the Boys' Varsity 1 team is in position for to offer some stiff competition, even as it makes some rebuilding adjustments.
With the loss of tall starters like the 6' 10" Mark Gasperini '16 and 6' 9" Isaiah Fontaine '16, the team is working to compensate. Athletes will rotate around in game more often, based on the play called. The hope is that this will allow individuals to play more to their strengths, without restricting them to one role or position.
Still, the future looks bright with co-captain and shooting guard AJ Reeves '18, a nationally recognized star, looking to build off of a strong sophomore year that left him ranked 2nd in Massachusetts and 3rd in New England.
Co-captain and point guard Ju'quan Mills '17 is also poised to become a leader on the court, especially with his quickness and ball handling skills to score and initiate plays.
A transfer from St. John's Prep, Jimmy Yfantopulos '18 looks to be a versatile combo guard who can shoot the three ball as well as well as attack the rim.
"The lefty is one of the quickest players in New England with the ball in his hands and uses his craftiness to attack the basket and either score or dump it off to his big man, according to New England Recruiting Report. "What's most impressive is his toughness, he never backs down from a challenge on the defensive end, and when you match that with his natural leadership abilities and instincts and there's no doubt Jimmy Yfantopulos is a player on the rise."
Although individual player prospects look strong, Varsity 1 will have to get used to playing with a short bench comprised of Dylan Rigol '18 and Grant Iuliano '18.
"We will play more as a close group, and with fewer people we will get used to playing with each other faster," said starting forward Ethan Eastwood '18. The entire team is made up of just seven players, so everyone is sure to see lots of action."
The team opens its season Wednesday against Worcester Academy, who defeated Brimmer last year in a close game.
– Liam Johansson '18 and Josh Poresky '19 contributed to this article.
Leave a Comment