The Politics Behind High-Speed Trains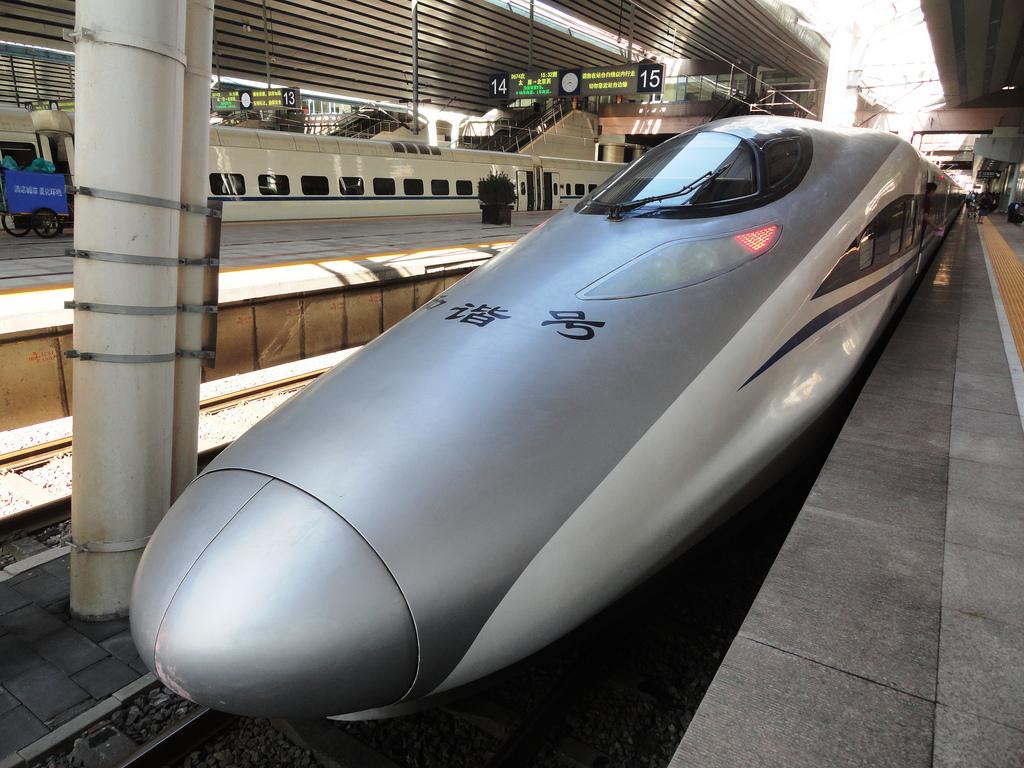 The world is turning to a new mode of advanced transportation—high-speed rail.
France and Japan have high speed trains. In just eight years, which, China also built an astonishing 12,000 miles of rail, with trains averaging 173 mph.
That's right. 173 mph.
High-speed trains are also environmentally friendly, powered by electricity from renewable energy sources like wind and solar. High speed trains are also much quieter than their old counterparts, reducing complaints from neighborhoods. Human error, not technology, has lead to several high-speed train crashes—including a 2013 incident in Spain which left over 80 dead.
In fact, according multiple news outlets, including CNN, "rail, high speed or not, is one of the safest ways to get around. According to a National Safety Council review of 10 years of transportation fatalities, for every mile traveled, car drivers and passengers are more than 10 times as likely to die in accidents as passenger rail riders."
With all of these advantages, where does America stand with introducing high-speed trains?
Where America stands
In July, President Obama allocated $10 billion to begin construction of high speed service between San Francisco and Los Angeles. It's estimated that by 2029, the expected completion date (provided additional funds are obtained), the high-speed service will take passengers the 382-mile distance in just over 2.5 hours.
Of course, this comes with a hefty cost. An estimated $64 billion is linked to this California high-speed rail project. In 2013, that astronomical figure didn't deter then Transportation Secretary Ray LaHood from telling The Atlantic that in the next quarter century, 80 percent of the nation will be connected via high speed rail. "We owe it to the next generation to build the next generation of transportation, and that's high-speed rail," he said.
On the eve of 2017, LaHood's prediction seems way off.
What's the hold-up? First, it's worth noting that Amtrak's Acela Express is capable of traveling up to 150 mph between Boston and Washington—but it does so only on a short stretches of track between Massachusetts and Rhode Island. The average speed between Boston and Washington is 63 mph.
Despite the relatively slow speeds, according to The New York Times, half of the passenger traffic between Boston and New York is by train, and that figure rises to 75 percent between New York and Washington. Clearly, a market exists here for high-speed trains.
Going 186 mph
I recently took the Acela to New York, and the travel time was 3 hours, 20 minutes- just a bit faster than driving. But once I left the station, the train immediately accelerated to its top speed of 150 mph, arriving at Providence in about 25 minutes.
Then, I traveled along the Connecticut coastline, where speed was limited due to tight turns and antiquated infrastructure. Then, the train had to share the railroad with commuter trains to New York. Meanwhile, I could see heavy traffic on I-95, but the train's speed was barely faster than the highway speed limit of 65 mph.
The train also stopped for at least 15 minutes before going over an old open drawbridge. I ended up arriving at Penn Station 30-minutes late.
This experience contrasted sharply with my visit in China two years ago over Winterim. I enjoyed taking China's "Bullet Train" to Shanghai from Hangzhou. The train ran at a sustained speed of 186 mph, taking just 49-minutes to travel 130-miles between cities.
Why not in America?
Certainly, the United States faces unique challenges with developing high-speed rail. The distances between our major cities is great. New York and Los Angeles, for example, are separated by 2,451-miles
"Much of the United States is not exactly an ideal market for high-speed rail," writes Michael Smart, a finance reporter for CNN. "Compared to places where rail really flourishes — Japan and Western Europe, for instance — the United States is geographically vast. As a result, in much of the country, cities are far enough apart that air travel provides significant time savings, even compared to some of the fastest trains."
Nevertheless, the dense population of 51 million in the Northeast Corridor seems like the perfect place for a high speed rail line. Proposals have been made for a 220 mph train from Boston to Washington, with the travel time being reduced from seven to three hours, but the price tag is estimated at $150 billion. Construction would also last until at least 2040.
Of course, funding high-speed rail is also facing stiff political opposition. In 2015, California Assemblywoman Patty Lopez (D-San Fernando)  threatened withdrawing her support for the Los Angeles-San Francisco high-speed rail project, telling the Los Angeles Times, "The money we are going to spend on it is crazy." She would rather California focus on more pressing issue, like water, jobs and homelessness.
On both sides of the aisle, Obama has also faced sharp criticism from redirecting federal funds away from high-speed projects and into upgrading existing Amtrak services, which is not equipped to have trains go faster than 110 mph. According the The New York Times, instead of spending $11 billion originally earmarked for developing faster trains, "none of the money originally went to service in the Northeast Corridor, the most likely place for high-speed rail."
During his 2011 State of the Union Address, Obama echoed LaHood's remarks. "Within 25 years, our goal is to give 80 percent of Americans access to high-speed rail.  This could allow you to go places in half the time it takes to travel by car.  For some trips, it will be faster than flying –- without the pat-down.  As we speak, routes in California and the Midwest are already underway."
But with pushback from taxpayers and politicians alike, some states, including Texas and Arizona, are looking at alternate means of funding for potential high-speed rail projects. After receiving federal and state aid to finance the first leg of construction, rail officials in California, Reuters reports, are experiencing "growing interest from foreign governments and international firms to finance the second leg to Los Angeles."
Before talks fell apart in July, mostly due to a federal requirement that high-speed trains be built in the United States, China was poised to enter into an agreement with XpressWest, a private firm backing a separate California's high-speed rail project.
In June, XpressWest released an official statement. "Our biggest challenge continues to be the Federal Government's requirement that high-speed trains must be manufactured in the United States. As everyone knows, there are no high-speed trains manufactured in the United States. This inflexible requirement has been a fundamental barrier to financing high-speed rail in our Country. For the past 10 years, we have patiently waited for policy makers to recognize high-speed rail in the United States is a new enterprise and that allowing trains from countries with decades of safe high-speed rail experience is needed to connect the Southwest region and start this new industry."
The clock is ticking
As politicians, private firms and the public continue to bicker, America's transportation system is becoming increasingly antiquated. At every level of government, at long last, our political and business leaders need to work together to build a high-speed train system. I don't have the magic solution, but it seems prudent to focus efforts on building high speed rail in one state first, perhaps in California, so that other states can see the potential benefits—as well as learn from mistakes during the construction process.
One major benefit, including in Massachusetts, would be providing faster, more frequent transportation to-and-from work. In May, the State Senate voted to study the feasibility of high-speed passenger rail between Boston and Springfield. Western Massachusetts, in fact, is losing many residents to cities and towns closer to Beantown, which has a more attractive job market.
I applaud Washington for wanting to keep production of high-speed trains in America. Without question, maintaining and creating domestic jobs should be of paramount concern. At the same time, it should be carefully weighed against the dire need to rebuild our nation's rail system. If one thing is clear, it's that this is no time or place for ideologues on either side of the debate. We need leaders ready and willing to make difficult compromises. Only then will high-speed rail become a reality in the United States.
Editors' Note: Lachlan Davidson '17 wrote this article for an assignment in Government, which is also taught by Gator advisor David Cutler '02.
Leave a Comment