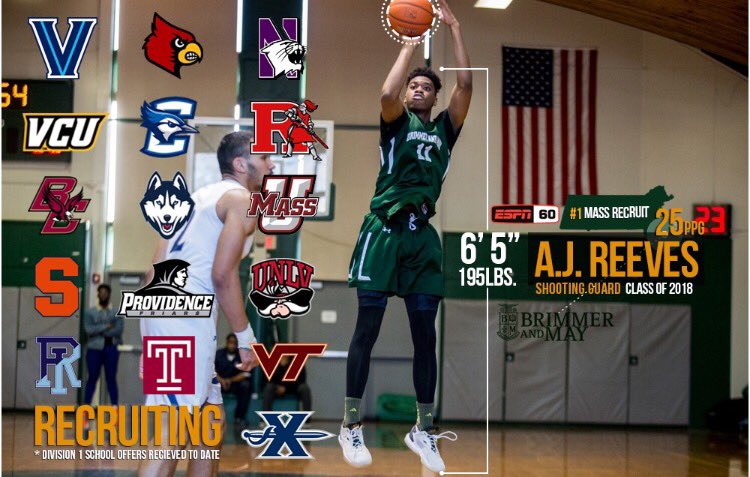 What do the men's basketball teams at Temple, Louisville, Villanova, and Connecticut have in common? Aside from each winning at least one national championship in the past five years, all have made offers to shooting guard AJ Reeves '18.
A four-star recruit, Reeves is ranked the 56th best high school player in the nation, according to CBS Sports. That's enormously impressive. NBA superstars Stephen Curry, Russell Westbrook and Paul George were 3-star recruits.
"With a lot of hard work, and a little bit of luck, he can make it to the NBA," says Varsity 1 Basketball Head Coach Tom Nelson of his team's star forward.
For Reeves, who "doesn't believe in having an off-season," hard work is something the Varsity 1 MVP knows a lot about.
Basketball is his constant—even in the summer, where most mornings he wakes at 6:30 a.m. to get in a cardio track workout, which includes sprints and footwork with a speed ladder. Around 10 a.m., he heads to the weight room. Afterward, he practices drills on the court for a few hours, before resting to prepare for an AAU night game with his team, Mass Rivals.
"After the game, if I have the energy, I'll go back to the gym," Reeves says. "That's where being mentally tough comes in, because physically your body is exhausted. You have to be mentally strong to tell yourself 'I gotta go, I gotta get it done.'"
By all accounts, Reeves knows how to get it done. Last summer, while competing against some of the most talented club teams in the country, he helped the Mass Rivals win an AAU national championship. His high level of play earned him a coveted spot on an even more elite adidas Nations team, which, according to the organization's site, gathers "more than 80 of the top under 18 players from around the world to…hone their skills under the guidance of elite coaches."
Reeves knows that he is among the best players in the country. But Nelson, who also coaches the Mass Rivals, says, "he also knows there is always someone better than him, so he spends every day working out, trying to catch up to the person in front of him, whoever that may be."
Ju'Quan Mills '17 plays alongside Reeves for Brimmer and he knows his teammate well—including the scrutiny that the top-prospect faces. "AJ faces constant criticism from recruiting services, coaches, other players, other coaches," Mills says. "At Brimmer, AJ is the seen as the 'ESPN top-100 guy,' so when our team does not win, they don't put it on our team—they put in on him. Everything he does is watched and followed, and everyone critiques everything he does. That's a lot to carry, and he does it with grace."
Off the court, Reeves is no stranger to trying circumstances. He grew up in a particularly rough part of Roxbury, Mass. If not for basketball, he says, "I don't know what I'd be doing." It would have been easy for him to get involved in dealing and not going to school. Instead, he set out to prove to himself, and to others, that he could overcome and improve his fortune.
"I've gotten better a proving doubters wrong," Reeves says. "I don't want to name names, but there are still those who think I'm not good enough. I am good enough, and that's why I work hard every day. That's why I am at it, working into the night."
While Reeves' athleticism dominates opponents on the court, his Brimmer and Mass Rivals teammate Jimmy Yfantopoulos '18 says that he is grounded by humility and a strong worth ethic. "AJ is our best overall player. He does everything for us, from scoring to rebounding to passing. He makes everyone around him better, all without having the slightest ego. He scores lots of points, but what makes him truly great is that he is always a team player."
But it's how Reeves treats those closest to him, Nelson says, that really stands out as a defining characteristic. As just one example, when Reeves returned from adidas Nations, Nelson explains, he received a bunch of of free shoes and apparel, much of which he gave away to teammates.
"When I asked AJ why he give away much of his gear, he said, 'I have to take care of my guys because if not for them, I would not be in this situation.'"
Nelson has no doubt that Reeves will succeed right off the bench as a freshman, wherever he ends up attending. After that, Nelson says, Reeves has all of the required features to play in the pros—the length, the size and the skill. "But is going to have to work harder than anything in his life to be able to play with the best-of- the-best in world. I know he can live up to that."
Along the way, Reeves can rest assured that his alma mater will be proudly watching and supporting him on the sidelines.