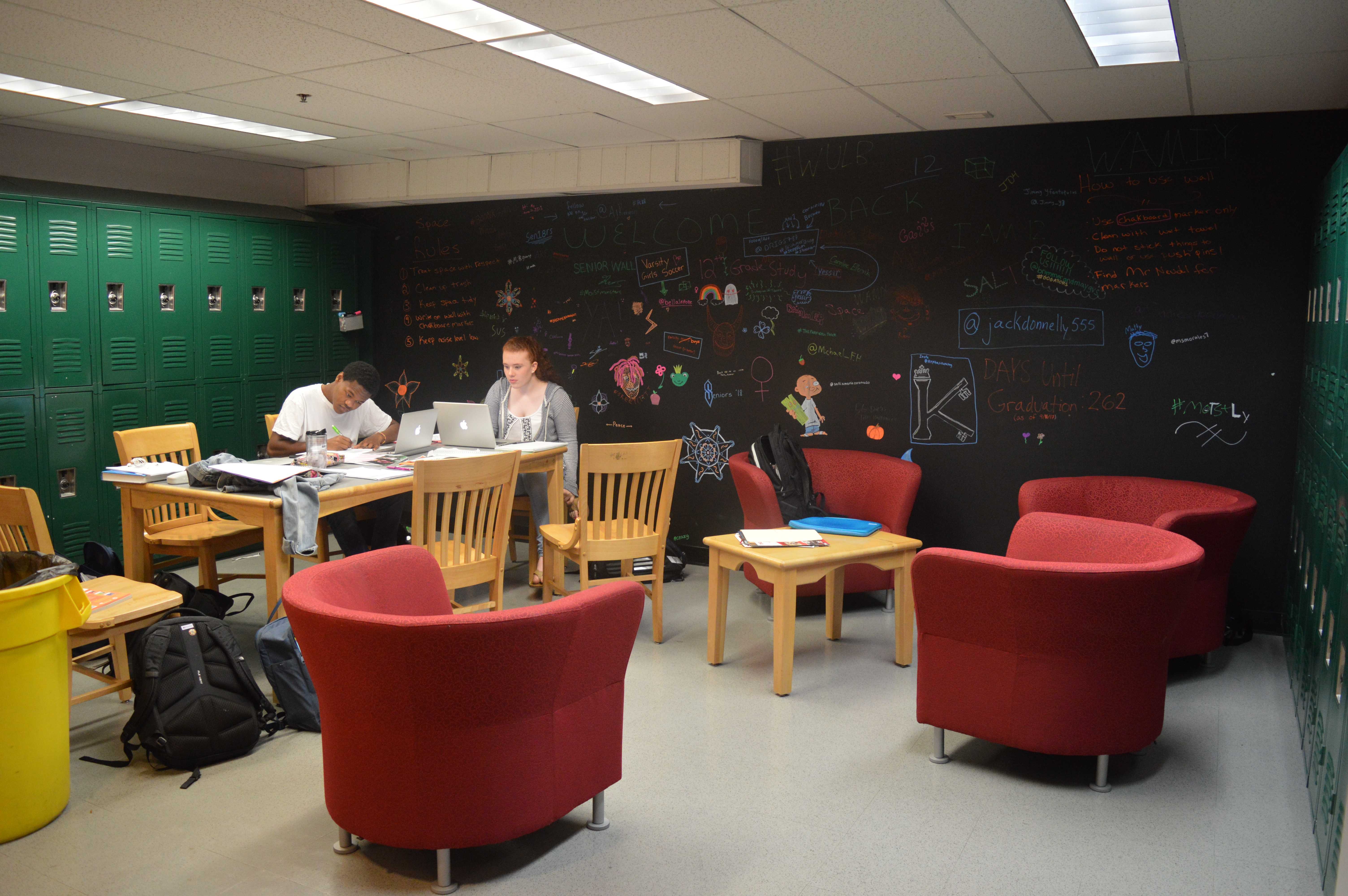 The Hastings Center brought us a gorgeous new cafeteria and plenty of awesome learning space, and we couldn't be more grateful.
Unfortunately, the addition also saw the end of our beloved student lounge, situated between the theater and kitchen. The space, which generations of students had enjoyed, offered an ideal and much needed setting for upperclassmen to chill—away from teachers and other adults.
Upon learning about that the lounge would be demolished, the Class of 2018 requested and received a new space of their own. 
The new lounge is located across from the science wing, where rows of lockers used to be located. It has two tables, six wooden chairs and four cushioned seats. A chalkboard covered in drawings at the center of the room features shout outs and social media handles. Seniors also have lockers at opposite ends of the room, but no electrical outlets to charge devices.
The space is also too small to share with juniors, who had access to the old lounge. 
As thankful as I am that my class has a lounge at all, it pales in comparison to the one we lost. In addition to much less space, without doors, we've lost the privacy that previous seniors enjoyed.
I imagine that teachers and administrators fear the potential liability of an enclosed, unsupervised space. As seniors, however, we feel that we have earned the School's trust to behave appropriately and model core values, even without adults looking on.
I'm not the only senior that feels this way. "I'm grateful that they decided to give us a new space, however, there's not enough seating for everybody so people end up sitting on the floor," said Sarah Ulfelder '18. "It's a space for seniors, but because it's open it feels like it's open to everyone."
Sadie Goodman '18 feels similarly, explaining that instead of the lounge being a place to kick back and socialize with peers, the space is inadequate.
"The lounge is fine to hang around during break and to drop your bag off," she says. "But really, seniors only use it if they want to drop off their bags and eat their outside lunch—and even then there's not enough seating."
I don't think what I am asking for is unreasonable. In 2013, students at Barrington High, a public school in Chicago, returned after fall break to find "a nearly 100-seat lounge," according to The Chicago Tribune.
More recently, in September, students at Huntington North High School in Indiana also returned to find a new student lounge. A recent article in the town's local newspaper reports that "at any time during the school day, students can be found spending some time at [in the lounge], gathering in multiple groups of three or four or even more, or simply using the lounge individually to work on assignments. Some classes also meet at the lounge, such as the credit recovery class led by teacher Leslie Nicola."
Once more, I want to reiterate how grateful all of us should be for the Hastings Center. The space is certainly transformative, and I consider myself hugely fortunate to attend such a fine school. I just hope that in the future, the administration will work with students to find space for a more suitable lounge.