Op-Ed: Speak Truth to Power Amid Sexual Abuse Claims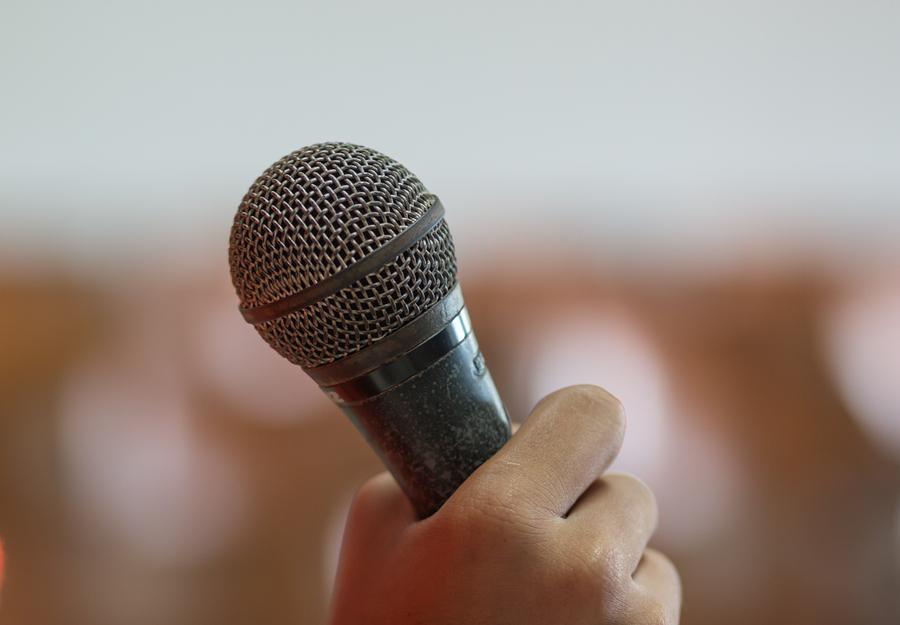 Something is rotten in America, and the stench is emanating from our political leaders and media elite, who either don't know how or refuse to treat women with dignity and respect.
Let's start at the top.
Last week, President Donald Trump suggested that the voice on the infamous "Access Hollywood" video wasn't his, despite having admitted as much during the fallout.
"Anyone who knows me knows these words don't reflect who I am," he said, shortly after the footage went viral. "I said it, I was wrong, and I apologize."
This contradicts reporting from a Nov. 28 New York Times article, which maintains that before Trump's inauguration last January, he told an unidentified Republican senator a different story.
"We don't think that was my voice," Trump reportedly said, pushing a fake news agenda of his own.
White House aides have dodged further inquiries, referring media questions to Press Secretary Sarah Huckabee Sanders, who maintains that Trump has made his position on the matter "clear." He hasn't, which is all the more unacceptable given the President's history. In fact, throughout his life Trump has been accused of sexual misconduct by numerous women, including several teenagers.
Still, none of this stopped Trump from recently offering his official endorsement for Roy Moore, the embattled Republican running for a vacant Alabama Senate seat in a special election next week. The support comes as Moore is embroiled in his own scandal, accused by numerous women of sexual misconduct, including claims that he made advancements at them as teenagers, when he served as a 32-year-old assistant district attorney.
Moore has remained steadfast in his denials, even as Senate Majority Leader Mitch McConnell, House Speaker Paul Ryan, and many other establishment Republicans have said they believe the accusations. But in the face of Trump's support for Moore, McConnell has backpedaled, saying, "let the people of Alabama make the call." Where is the political courage in Washington? When will doing what's right stand above petty party politics? It's unfortunate that the answers to both questions remain elusive.
But recent sexual misconduct allegations aren't confined to one side of the aisle. As of this article's posting, five women have come forward with unsettling claims against Democratic Minnesota Senator Al Franken.
The first allegation came from radio host Leann Tweeden.
"I couldn't believe it," Tweeden wrote in an article published on KABC radio in Los Angeles. "He groped me, without my consent, while I was asleep. I felt violated all over again. Embarrassed. Belittled. Humiliated. How dare anyone grab my breasts like this and think it's funny?"
In a separate incident, via social Media Tweeden shared a photograph of Franken grabbing her breasts while she slept (the Senator has gone back-and-forth as to whether he actually made or feigned physical contact). Either way, Franken did release an apology letter, but it hasn't stopped other women from coming forward, or the likelihood of a Senate ethics investigation.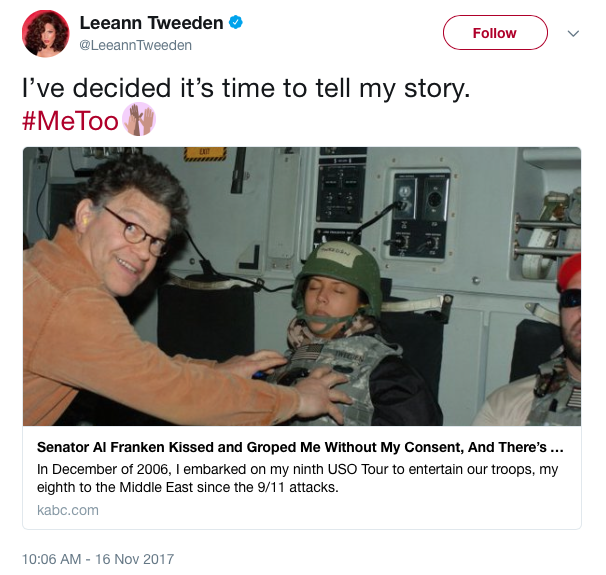 With respect to Hollywood, sexual allegations against former movie mogul Harvey Weinstein date back to 1987. After actresses Rose McGowan and Ashley Judd spoke out in an Oct. 5 New York Times article, more accusations keep coming. A bombshell report by journalist Ronan Farrow for The New Yorker only fueled pressure for Weinstein to step down as co-chairman of The Weinstein Company. 
In Weinstein's apology letter, he stated, "I appreciate the way I've behaved with colleagues in the past has caused a lot of pain, and I sincerely apologize for it."
Then, news broke about accusations targeted at Oscar-winning actor Kevin Spacey. As a result, Spacey lost his hit Netflix series, House of Cards, as well as any chance to star in another major production. A few days later, the extremely popular comedian Louis C.K. was accused of exposing himself (and worse) in front of women. This resulted in abrupt severing of ties with FX, which for five seasons had produced a successful series, Louis, loosely based on the comedian's life.  
Seemingly out nowhere, NBC fired Today show host Matt Lauer for  "inappropriate workplace behavior," according to NBC News Chairman Andrew Lack.
Providing further details, Variety magazine published a detailed report on Nov. 29, detailing the accusations: "As the co-host of NBC's 'Today,' Matt Lauer once gave a colleague a sex toy as a present. It included an explicit note about how he wanted to use it on her, which left her mortified. On another day, he summoned a different female employee to his office, and then dropped his pants, showing her his penis. After the employee declined to do anything, visibly shaken, he reprimanded her for not engaging in a sexual act."
As if Americans are living in the Twilight Zone, Trump had the gall to Tweet about Lauer, as if the President had any right to claim a moral high ground.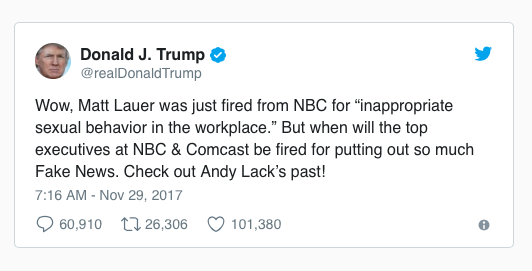 But this conveys the real heart of problem. On too many levels, America has a leadership deficit—including in the White House. Unfortunately, men in positions of power are practicing unethical (and perhaps illegal) behavior. More than ever, the nation needs people to speak truth to power, and the nation owes a debt of gratitude to the brave women who continue to come forward about being victims of sexual harassment and assault. We have an obligation to keep each other accountable, no matter who you are or what position you hold.
Nobody is above the law, and everyone should show common decency.
Continue speaking out against improper behavior, not just from the rich and powerful. Write letters of concern to your local paper, call your state and federal representatives, or consider running for office yourself. Be an ally to a person in need. Whatever you do, don't be silent.
Editor's note: If you are a person in need, or has experienced any sort of abuse, please reach out to a friend or family member.  There are also a number of terrific organizations which provide free or low cost services.