Elective Insider: The Terrifying Other
Over last winter break, Dr. Donald Reese's son returned home from college with a horror novella he had read, Victor LaValle's The Ballad of Black Tom, which tackles issues of race and identity. 
"That got me thinking about all of the ways in which horror fiction uses the category of 'Other' to make itself scary, and it seemed like an engaging and productive way to explore the ways in which we use 'Us' and 'Them' to understand our worlds," Dr. Reese said.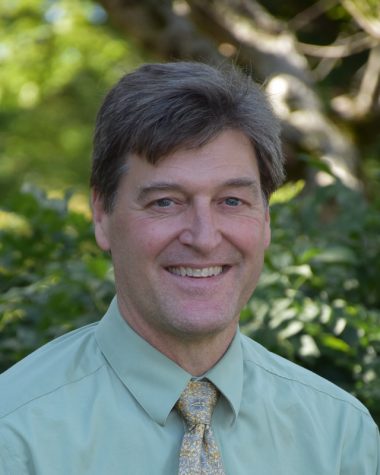 With that, Dr. Reese crafted a new English course, "The Terrifying Other: Visions of Race and Gender in Horror Fiction." The course, offered to juniors and seniors, tackles horror fiction with a specific focus on the role of "the other," someone that contradicts the norm.
I'm thrilled to be in this class, which, true to its course description, poses a number of intriguing questions: Who is at the center of horror fiction? Who is endangered and who is dangerous? Who counts as a monster? What is an 'Other'? Why do we create them? How have horror films and horror fiction reinforced and questioned social hierarchies and cultural blindnesses?
Major texts include Toni Morrison's Beloved, Henry James's The Turn of the Screw,  John Gardner's Grendel, Maria Dahvana's The Mere Wife, and short stories by H.P. Lovecraft, Edgar Allan Poe, Shirley Jackson, and Stephen King.
This elective is not only wonderfully entertaining and intellectually stimulating, it is also a class that I would highly recommend— even if you aren't a horror enthusiast.
To kick things off, Dr. Reese fostered discussion around real-world consequences of the "the other" in fiction. People or things that are "other, the class felt, often create an unsettling sense upon which the horror genre depends," he said. "As it turns out, though, we also saw unsettling parallels in the real-world." 
Many instances of hatred within our society stem from a fear of people and ideas that are different. Dr. Reese's course may deal with horror fiction, but he doesn't shy away from sharing what we can learn from literature. 
"It seems like the concept of the 'other' is getting a real workout in 'the real-world,'" Dr. Reese said. "Countries all over the world are voicing concerns about immigrants coming in and changing their cultures. Politicians exploit our fears about people whom we think of as fundamentally different from us."
This semester, Dr. Reese often encouraged me to think about questions like, "How can we tell when our fears reflect a real danger? How do we know when they are being used to manipulate us?"
Molly McHugh '21 has also found the class beneficial. "When I read, now I look deeper into the context and larger meaning of what the author is trying to get across through the horror genre," she said.
Dr. Reese's class teaches that the "us versus them" mentality grows from a place of fear. People who are different are often hard to understand. Society's majority use such people to define what they are not, and therefore, who they are. This creates a divide that governs many of life's decisions.
Though the idea of "the other" can be problematic, as Dr. Reese makes plain, causing deeper division and misunderstanding, it is also critical for understanding who we are as individuals and as a society.
"Dr. Reese teaches us that through studying fiction, we can obtain a better ability to empathize with those different from ourselves," Clayton McLaren '21 said. "It's an important lesson that everybody would benefit from learning."
This elective is not only wonderfully entertaining and intellectually stimulating, it is also a class that I would highly recommend— even if you aren't a horror enthusiast.
Beyond just the topic of the course, I strongly believe that the format of the class is incredibly important for high schoolers to try at least once in their student careers, and I hope that more classes begin to follow in Dr. Reese's footsteps.