Op-Ed: My Heart Aches for Australia
Since September, Australia has been ravaged by devastating brush fires due to the climate change crisis, rising temperatures, and droughts.
Over 17.9 million acres of land have been destroyed by the flames.
Temperatures in Australia during the nation's summer months, September through February, are normally high. However, according to the Australian Bureau of Meteorology, the temperature reached 104 degrees last week, breaking the average for January.
Brush fires commonly occur during the summer's dry season, but they have been strikingly worse this year. Large parts of the country are experiencing severe drought, with strong winds spreading the flames. Many towns are under a level two water restriction, limiting the use of outdoor drinking water.
High heat, dry air, and a shortage of water all contribute to the prevalence of fires. Many people have been arrested for arson; however, it is not known if any of the fires were human-caused.
As of now, 28 people, including volunteer rescue workers, have died due to the fires and about 2000 homes have been demolished or damaged. New South Wales, one of the most populated states, has taken the heaviest hit.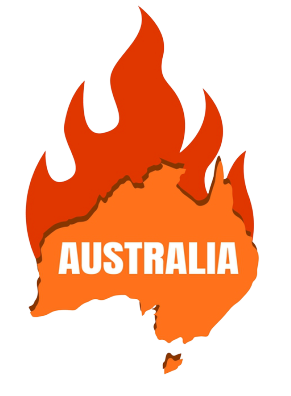 "The 2019 Amazon rainforest fires burned more than 7 million hectares (about 17.5 million acres), according to Brazilian officials," CNN recently reported. "In California, which is known for its deadly wildfires, just over 100,000 hectares (247,000 acres) burned in 2019, and about 404,680 hectares (1 million acres) in 2018."
About half a billion animals in Australia, including birds, reptiles, and koalas, have been affected by the fires.
"Almost a third of koalas in New South Wales may have been killed in the fires, and a third of their habitat has been destroyed," said Australia's Federal Environment Minister Sussan Ley. Certain species of frogs and birds could become extinct soon if their habitats are destroyed.
The United States, Canada, and New Zealand have offered aid, including sending additional firefighters to combat the flames. But with summer not over, there is no accurate prediction as to when the flames will simmer down.
Over the past weeks, my social media feed has been blown up with pictures and videos of this environmental tragedy. While images spread awareness, I also urge people to donate money.
A friend of mine from summer camp, who lives Melbourne, Australia, posted on Facebook a plea for donations of any size.
"The money raised goes to the firefighters who have been working a 12 hour shift almost daily for 4 months, the volunteer firefighters who have left their families behind to help others and risk their own lives," Paris Sullivan McNeil wrote. "It will provide shelter, food, amenities, and even basic hygiene products as EVERYTHING has been lost in these fires."
As a tennis enthusiast, my heart aches for all of the players competing in the Australian Open, which kicked off Jan. 2 and ends Feb. 14.
While brush fires are not raging in Melbourne, where the tournament is taking place, the city is filled with smoky air from nearby outbreaks. This has delayed matches, even mid-play. After having a coughing episode during her qualifying match, Dalia Jakupovic withdrew from the tournament.
Many players are publicly announcing that they would donate their prize money to different organizations to help support the country's needs. Some players pledged for every ace they make, they will donate $200.
Last Tuesday, Rafael Nadal, Roger Federer, Serena Williams, and other competitors  teamed up to organize Rally For Relief to raise money and awareness. They raised $4,826,014 according to the Australian Open Twitter account.
That same night, Nadal and Federer announced that they will team up to donate $250,000 to relief organizations. Australian Nick Kyrgios, who also played in the event, was grateful for the money raised and the outpouring of support.
In a public statement, Kyrgios said, "When I was back home in Canberra, I couldn't even go outside (due to bushfire smoke) … and I'm just so happy that we had Roger, Rafa, Novak–some of the greats–to get behind this."
Tuesday, German player Alexander Zverev announced for every match he wins in the tournament, he will donate $10,000 to relief. If he wins the whole tournament, he will donate all of his prize money to rebuilding the country.
Let's take a cue from these athletes.
Please consider donating to the Red Cross Disaster Relief and Recovery or Salvation Army Emergency Services, working to protect inhabitants and offer economic relief for the damage caused. Please take a moment to donate. Any amount is helpful.