Editorial: School Takes Safety Measures
With over 100 presumptive cases of COVID-19 in Massachusetts, the School has taken serious safety measures to protect community safety.
This past Monday, faculty and staff were given bottles of bleach, hand sanitizer, and other cleaning products for their classrooms and workspaces to wipe them down every morning.
Head of School Judy Guild and School Nurse Beth Escobar have explained the importance of handwashing for 20 seconds with soap—about the length of singing the "Happy Birthday" song.
All members of the community were instructed to sanitize their hands when entering the building and to be aware of what they touch, especially their faces. All forms of physical interaction were discouraged, such as handshaking, high-fiving, and hugging.
To prevent the spread of germs from door handles, many teachers opted to leave their classroom doors open throughout the day.
While no one affiliated with the School has contracted the virus, field trips and events were canceled as a precaution. These events were scheduled to take place earlier this week, as well as during and after the School's March break.
It is important to note how caring Brimmer is of their students.
Co-Director of International Students Helen Du held a meeting weeks ago with Chinese students to let them know that the School is supporting them during this difficult time. In addition to fears of contracting the coronavirus, Du says, students are also worried about not being able to return to the United States after going home.
Just days ago, administrators and counselors, in an abundance of caution, canceled the annual 7th-grade trip to Washington D.C. This decision was made not because there were confirmed cases in D.C., but out of caution of the trip back to Boston.
In this week's bulletin, administrators write, "Interim CFO Domenic Messina along with Director of Buildings and Grounds Tom Bray have met with our cleaning company to review daily cleaning practices and deep cleaning needs for over the spring break. We are also speaking to two other companies in the event we wish to double our efforts."
In just a few days, the technology department and administration worked long hours setting up Zoom, a communication platform offering video conferences, so that the School has an alternative learning system in place, in the event the school was to close for an extended period of time. They trained the faculty, staff, and students earlier this week to prepare them for this possibility.
Around 2:30 p.m. yesterday—in a meeting with administrators—Guild announced spring break would begin a day early with the School closed today. While there have been no confirmed cases in the community, other local private schools in the area have closed due to presumptive cases.
While the virus is rapidly spreading, students should do their best to remain calm. It warrants repeating that the School's acted decisively to keep students safe and healthy, not because of an outbreak in the community.
The virus on its own is enough cause for concern, but community members should get their information from reputable sources such as the Center for Disease Control and established media platforms.
Many people—especially younger generations—rely on social media to receive their news updates. This is not the time to use Instagram as a means of gathering information, and the School has responsibly urged community members to rely on credible sources, such as Johns Hopkins University's Coronavirus Resource Center, to stay informed as developments occur.
Earlier this week, Escobar sent an email to students and faculty encouraging everyone to smile and be like Bob, the cartoon.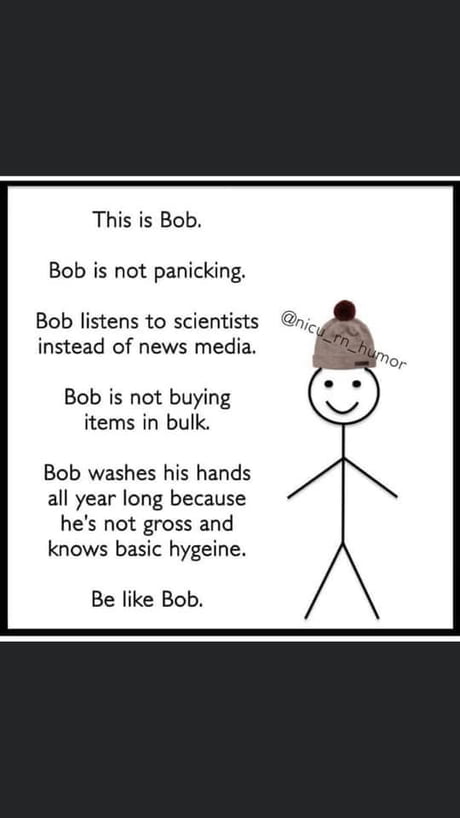 To keep our community safe, happy, and healthy, Guild and other members of the community deserve praise. When school returns from break, make sure to say thank you.