Editorial: Community Responds to Acts of Injustice
Over the past few months, our nation has endured numerous publicized instances of racism. As students have spoken out regarding the situation, the School has ensured resources are available if needed—informational and support-wise.
In early May, Amalia Ali '20 addressed the community in an email to bring attention to the "brutal killing of 25-year-old Ahmaud Arbery," a tragic death that occurred in February. Her email included a variety of articles about the tragedy, which was brought to the public's attention after a video of his death surfaced online.
Director of Equity and Inclusion Jessica Christian quickly followed Ali's email with a reassurance that students have resources available if they need someone to talk to, or if they want to communicate with a trusted adult about the dire circumstances.
Additionally, Head of School Judith Guild spoke to the community about the incident, further emphasizing that the School's community is one of welcoming and love—not one of racism and hate, which Arbery fell victim to.
After more injustices dominated the news—specifically the death of George Floyd in Minneapolis, Minnesota—Christian reached out to the student body to shed light on another tragic event. 
"Although we have no real playbook for these situations as educators, we are here for you in any way that you need us," Christian wrote. "We can help you process all of this."
Over the past week, outrage over Arbery and Floyd's deaths—among other incidents of racial injustices—presented itself in the form of protests across the country.
Ahead of a scheduled protest in Boston on May 31, Senior Class President Joseph Bahhady '21 helped educate and support his peers by providing information about the situation and precautions to take if participating in the protest. 
"We are ONE COMMUNITY and it's important to be there for each other," Bahhdady wrote. He also emphasized the importance of "just be[ing] kind and [caring] for one another," something that is especially crucial given the current pandemic. 
Early this week, Christian, Guild, Head of Upper School Joshua Neudel, and Head of Middle School Carl Rapisarda-Vallely spoke to the Middle and Upper Schools about the numerous acts of racism and brutality dominating headlines.
"The only conclusion I can come to is that race matters," Neudel said.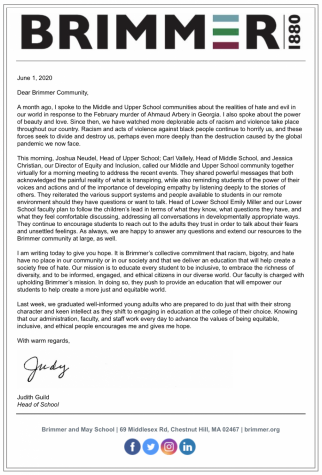 Following the meeting, Guild addressed the community in the weekly bulletin to reiterate the School's stance on acceptance and kindness.
"It is Brimmer's collective commitment that racism, bigotry, and hate have no place in our community or in our society and that we deliver an education that will help create a society free of hate," Guild wrote. "Our mission is to educate every student to be inclusive, to embrace the richness of diversity, and to be informed, engaged, and ethical citizens in our diverse world."
Additionally, Christian and Upper School Counselor Emily Luckett organized an "Open Discussion About George Floyd, Protests, and Racism in America" over Zoom this week. The meeting's intent was to foster an open environment for students to discuss recent events.
"No need to prepare anything," Christian wrote in the invitation. "ALL are welcome and encouraged to come and either participate or listen."
In the midst of an incredibly difficult time—due to COVID-19 on top of these injustices—the School and its community members have made it their top priority to help provide students with resources to educate and take care of themselves. 
With the distressing events that have occurred, the School is taking a step in the right direction by addressing an important matter in a respectful and supportive manner.