Faculty Profile: Music Teacher Max Holman
The Gator had the opportunity to speak with Middle and Upper School Music Teacher Max Holman, who joined the School this year and has led the Middle and Upper School's choral ensembles during the pandemic.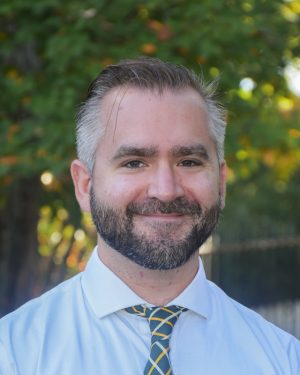 What did you do prior to joining the School?
I taught English in Madrid. I did the teach-abroad thing, and it was really fun—a nice change of pace from the graduate school experience. But I wanted to do something more full-time; something that used music as my focus. I settled in Norfolk, Virginia, where I lived for four years. For the first three years, I taught at a small private school very much like Brimmer, and then after that year, I took a year at Virginia Wesleyan University.
Since you began teaching here in the fall, what have you been doing on campus?
I teach Middle and Upper School. In Middle School, I have 6th Grade Music and 8th Grade Music. Normally, we would have the May Chorale, the Middle School's choir, but this year with COVID and the complications around singing inside, there were too many students for that to be possible. In the Upper School, of course, the Musical, and then I direct Greenline. I teach an elective, so this year I inherited Improvisation for the theatre in the fall, and currently, I'm teaching Acting.
What are you planning to do next year?
Next year, I will be teaching Music Theory in the Fall, and then Advanced Harmony in the spring. I'm excited to bring that academic side of music to Brimmer.
How have you been handling COVID-19 restrictions with your groups and classes?
For our community of performing artists and musicians, especially wind instruments and singers, it's been devastating. The game plan is: how do we do this safely and provide something that is satisfying for the performers and the audience?
One of the easiest—and I say easiest, while it wasn't easy at all—was adapting the musical to be on Zoom, and writing a show so we didn't have to worry about copyright or streaming licenses. In Greenline, for instance, we have created a virtual choir. That can be done safely because the students can record at home.
Is there anything you would like to leave off with?
As a new teacher at Brimmer, I feel really grateful to be here. I'm trying not to be hokey about it, but the other teachers at this school are really awesome. Passing the classes and hearing what they are doing, I've just been blown away. I'm looking forward to being a part of the community as much as possible next year.