Op-Ed: Why Simone Biles's Decision Is Important For Mental Health
The Olympics foster global unity and celebration, but too many give little thought about the difficultly involved in competing on the world stage.
We got a glimpse of this mental difficulty when American gymnast Simone Biles—one of the most celebrated athletes in Olympic history—pulled out of most of her events at the Tokyo Games.
Competing in the 2020 Olympics would have been a challenge in itself for athletes. But the 2021 Games occurred during a major global pandemic that has killed over 4 million around the globe. 
Some athletes and teams decided to withdraw from the Tokyo Olympics, due to mental health concerns or apprehension about getting sick. This included Spanish tennis player Rafael Nadal, American basketball player Bradley Beal, and the entire Greek artistic swimming team. 
However, the situation was more complex for Biles. NBC News reported that Biles experienced the "twisties," a gymnastics term that refers to the abrupt inability to perform. 
Laurie Hernandez, Biles's teammate during the 2016 Rio Olympic Games, said when you have the twisties, "the rhythm is off, and your brain will stutter step for half a second and that's enough to throw off the whole skill, and so, it happens, and it takes a second to get over that."
Biles also told her followers on social media that she could "literally not tell up from down" and it was "the strangest, weirdest feeling." She also told her supporters that, "if you look at the pictures and my eyes, you can see how confused I am as to where I am in the air."
Then, news broke that Biles's aunt had unexpectedly passed away during the Games, prolonging the gymnast's return. 
In her absence, USA women's gymnastics pulled through at the team all-around and won silver. After the medal ceremony, NBC interviewed Team USA about their podium splash. 
Suni Lee, one of Biles's teammates, reminded fans that Biles is human, and that her safety came before a competing for gold medal. Lee later stepped in for Biles for the individual all-around and won gold.

"It's a huge thing, but in our minds, this silver medal is a gold medal," American gymnist Jordan Chiles said. "We didn't just get silver, we won silver … we did this to show, no matter who you are, no matter the circumstances, if you put people who know what they're doing out onto that floor, they can succeed and fulfill what they need to do."
Biles ultimately returned and competed in the balance beam event, winning bronze in her unexpected return to the Olympics. 
Biles's travails open the picture to mental health as a whole. Mental health is often neglected in daily life. 
Not only does mental health struggle for adults and athletes, but also students. According to the CDC, more than one-third of high school students felt an unwavering feeling of sadness in 2019, a 40% increase since 2009. Similarly, around one-sixth of youth had a suicide plan in 2019, a 44% uptick since 10 years prior. 
Poor mental health, the report says, contributes to unsatisfactory grades and decision-making, which then leads to more adolescents experimenting with drugs and alcohol. 
Mental health is significant to all of us. COVID-19 has pushed us all to the brink regarding mental health. It is essential to self-evaluate and advocate if you are struggling. Techniques can be as simple as going for a walk or listening to music.  
Biles displayed resilience in her actions of stepping out of her competitions to focus on her mental health but also rebounding to compete later in the Games. She also exhibited courage when other athletes would have taken the risky route and forge ahead, Biles did what was best for her safety, while cheering on her teammates. 
During the Opening Convocation on Monday, Head of Middle School Carl Rapisarda-Vallely put it perfectly.
"An injury to the mind is as important to address as an injury to the body," Rapisarda-Vallely said. "I was proud of her for taking care of herself when she needed it most, even when it may have been inconvenient for others…Because while Simone Biles may be the G.O.A.T, she is not a machine, she is a person." 
I applaud Biles for her actions that demonstrated one of this year's themes, "Resilience," while also showcasing the Core Values we embrace here, such as kindness for her teammates. I praise Biles for prioritizing her mental health, which too often remains overlooked.
Biles made the world step back and look at the big picture of mental health, and realize the grueling tolls of the Olympics.
Editor's Note: if you are suffering from anxiety or depression, please seek help from a school counselor, who can also introduce you to other helpful resources. 
Leave a Comment
About the Contributors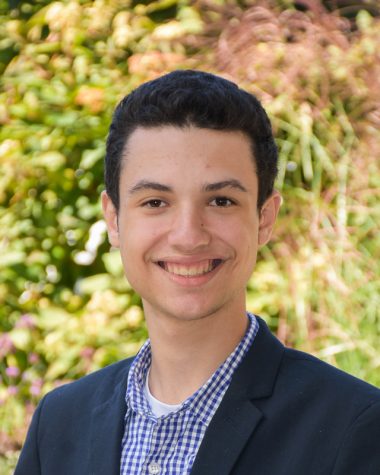 Evan Michaeli, Executive Editor
Evan is passionate about saving the environment and learning geography. When he is not writing articles for The Gator, he enjoys watching and playing sports, especially baseball.