Op-Ed: Theatre Presents Great Spooky Entertainment
As soon as October approaches, a chill runs through the air that can only mean one thing. When plastic skeletons and ghosts guard houses and you can't turn the corner without running into a pop of orange and black, it's time for Halloween.
Entertainment thrives in the month of October. TV channels, such as Freeform's "31 Nights of Halloween" take advantage of the amount of scare-centered media, running Halloween-themed movies throughout the month.
Of course, movies and books take the fame for horror entertainment, but there is an underdog that should be appreciated more: live theatre.
Theatre, quite honestly, can be terrifying. It may not have the special effects that a CGI-filled multi-million dollar film series can obtain, but it has several other tricks up its sleeve.
By witnessing something live, audiences can have their senses manipulated in a way that movies just can't reach. Just look to the 2017 Broadway adaptation of George Orwell's 1984. According to an article in The Hollywood Reporter, "the non-linear staging [included] special effects like strobe lights, sudden blackouts, and jackhammer sounds, in addition to the plot's extreme torture scenes." Audience members had extreme reactions including fainting and even throwing up. An experience like that just can't be matched.
In addition, there is a significant number of plays and musicals that deal with death. Some are serious, some are comedic, but the idea of mortality shows up again and again.
An article from Playbill.com fascinatingly lays out ten shows that feature murder. The suspension of disbelief an audience must have as soon as they sit down to watch a show works to the advantage of extremities. Characters can be poisoned by plants, eaten by plants, and baked into pies, and the audience won't bat an eye if it aligns with the world of the show.
However, some shows go even further than that and make death their central theme. The Addams Family opened on Broadway in 2010 and featured a chorus of undead ancestors.
Not only that, but The Addams Family brought the classic Halloween family to the stage using a combination of black comedy and traditional boy-meets-girl musical theater tropes, to create what is today one of the top-produced high school musicals.
Following in the footsteps of The Addams Family came Beetlejuice: The Musical which opened in 2019, based on the Tim Burton film of the same name. Beetlejuice lets the audience know what they're in for right from the first number when Betlegeuse invites the audience to learn about "The Whole Being Dead Thing."
In the climax of the show, the undead lament their missed chances in life in "What I Know Now." Beetlejuice was enough of a success to be brought back to life itself: even after it was announced to be closing, the passion of the fans gave it a second chance to reopen in a new theater in mid-2022.
Finally, if you've talked to me at all in the past couple of months, you probably know that I think Ride the Cyclone is absolutely brilliant in the way it deals with mortality. Somehow, a story about undead singing teenagers manages to be comedic, emotional, and ultimately uplifting. It can go from eerie to reflective in the blink of an eye: creating the perfect spooky show.
For your next scare, turn to the stage. You might be surprised by just how well something performed live can deal with death.
Leave a Comment
About the Contributor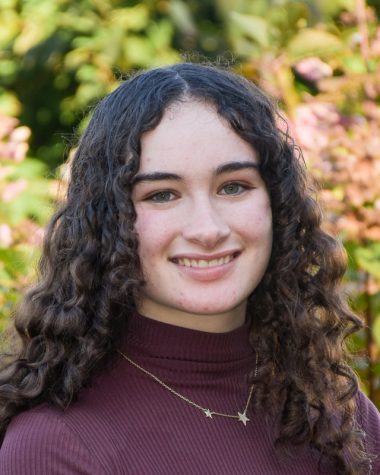 Marlie Kass, Outgoing Arts Editor
Marlie is thrilled to be on the staff of The Gator. A Lifer at Brimmer, she's been attending the school since Kindergarten. Marlie loves all things creative arts and looks forward to lifting up the community and exploring new ideas through her writing.