Op-Ed: The European Union Must Protect Ukraine
Vladimir Putin has done the unthinkable. Toward the end of the Beijing Olympics, Russia began to amass troops on the Russia-Ukrainian border.
In a fatal mistake, NATO underestimated Putin's bloodthirst, and most of all, the lengths to which he'll go to fulfill his mission of rebuilding the Soviet Union.
That's why the whole world is watching as Russian forces push deeper into Ukraine: it will set the precedent for superpower countries in the future.
There is no room for doubt: war has begun.
"Russia has embarked on a path of evil, but Ukraine is defending itself and won't give up its freedom," Ukrainian President Volodymyr Zelenskyy tweeted.
However, Russia has one of the strongest militaries in the world, so one has to wonder just how long Ukraine can hold out. Despite resisting Russian troops in a 13-day invasion, intense shelling has been piling civilian casualties as many try to flee.
Zelenskyy, to his credit, has shown the world his dedication and loyalty to his country by remaining in Kyiv, despite Russia declaring him to be their number one target. When offered the opportunity to evacuate by the US, the former comic retorted, "I need weapons, not a ride."
Last Monday, Zelenskyy appealed to the EU to "prove that you are with us" in a passionate address to the European parliament after Ukraine applied for membership.
"Our goal is to be together with all Europeans and, most importantly, to be on equal footing," he said in a video address. "I'm sure that's fair. I'm sure it's possible."
The world has rallied to wage war on Russia on a different front.
In light of Putin's bold threats of nuclear retaliation to NATO interference, instead of sending soldiers to the front lines, many countries have collectively shunned Russia from the rest of the world.
Russian airlines have been banned from entering UK and EU airspace. The EU has also banned all transactions with Russia. The Russian state, in effect, has been banned from raising sovereign debt, and a range of Russian banks are also being cut from the SWIFT international payments system.
This measure will stop the country from operating worldwide, and effectively block Russian imports and exports. Russia has also been banned from competing in many international sports competitions.
"
The world has rallied to wage war on Russia on a different front."
Many other countries are chipping in to help Ukraine. Germany plans to send hundreds of weapons and missiles, breaking its longstanding taboo of not exporting arms to conflict zones.
Stockholm is sending 5,000 anti-tank rockets to Ukraine as well. This is the first time Sweden has sent weapons to a country in an armed conflict since the Soviet Union invaded Finland in 1939.
Other countries that have pledged military aid are Belgium, the UK, France, Greece, Italy, Portugal, Spain, Bucharest, Israel, the Netherlands, and Canada.
Despite being severely outnumbered and out-gunned, the Ukrainian resistance has been more powerful than anyone, including Putin, had expected.
With their president remaining steadfast despite the grave danger he is in, many Ukrainians have rallied to join the fight. The government dispersed firearms to any civilian willing to fight and broadcasted instructions on how to concoct Molotov cocktails for families.
Civilians have also come up with more creative ways to deter Russian forces. A company in charge of building and maintaining roads said it was removing all road signs that could be used to navigate the country.
"The enemy has poor communications, they cannot navigate the terrain," the company Ukravtodor said in a Facebook update. "Let us help them get straight to hell."
A photo of road signs in which directions have been replaced with profanities accompanied the post.
A number of military analysts believe that Russia had hoped for a lightning "shock and awe" advance to the edge of Kyiv, hoping to intimidate Zelenskyy and his government into surrender without Russia actually having to seize the city. Instead, the resistance is growing.
The message is clear: Ukraine is fighting. But for how much longer can they last?
Leave a Comment
About the Contributor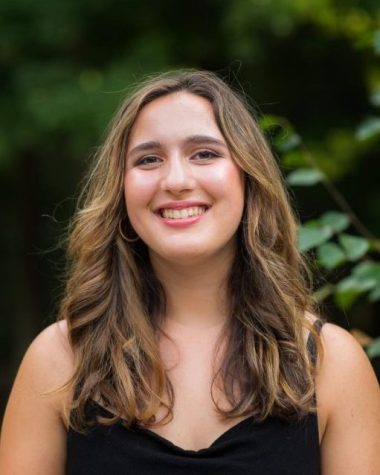 Grace Papas, Outgoing Executive Editor
Grace attended Brimmer for six years and was a part of The Gator for her entire high school career. She enjoys writing, photography, listening to music, and playing soccer. She's incredibly grateful for the opportunity The Gator gave her to express her ideas.