TV Review: 'Smiling Friends' on Adult Swim
Smiling Friends is a much-needed return to form for a lost era of Adult Swim shows.
The series harkens back to a time before the deluge of identical adult animation shows, when Adult Swim also ran a variety of strange, surreal, but above all hilarious shows.
In the early to mid-2000s, shows like Xavier: Renegade Angel, and Harvey Birdman: Attorney at Law combined strange world and anachronistic visuals with protagonists utterly at home in that environment, and Smiling Friends absolutely fits that same mold.
The show follows Pim and Charlie, voiced by creators Michael Cusack and Zach Hadel, respectively. Pim and Charlie are employees of Smiling Friends Inc., a charity dedicated to making their clients smile whatever the cost. Of course, this is never as simple a task as it sounds, and results in them doing everything from helping a depressed shrimp get back on his feet after a breakup, to investigating a fast food restaurant owner's death at the hand of one of his mascots.
While most of the art is done in a great hand-drawn style that combines very simple character designs for the main characters and places them in stark contrast with their extremely detailed backgrounds. There are also a variety of characters created with 3D animation, live-action, and even stop motion.
The hodgepodge assembly of the world is key to the show's charm, and it doesn't stop at just the art style. While most of the main cast are voiced by the showrunners Cusack and Hadel, they are backed up by a combination of big-name actors and famous figures of the early Newgrounds scene, where both Cusack and Hadel got their start in animation. This leads to moments that couldn't even really be called cameos where Finn Wolfhard or Gilbert Gottfried show up for only a couple of seconds and are gone from the series as soon as they showed up.
It all serves to throw off the viewer's balance in just the right way, and the show never ceases to be hilarious across the entirety of its runtime. Each episode is only about ten minutes long, so if any of this sounded good to you, I highly suggest checking out at least the first episode. I myself watched the entirety of the first season throughout one afternoon, and if you like what you see, I'm willing to bet you'll do the same
Leave a Comment
About the Contributor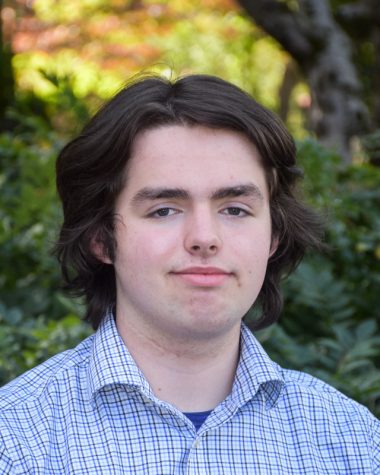 Charles McLaughlin, Senior Journalist
CJ has been at Brimmer since her freshman year and has been a member of the newsroom since the beginning of the 2019-20 school year. Outside of writing for The Gator, she is a huge film buff and a member of the Robotics Team as a designer and builder.