Middle School Athletes Complete Varsity Rosters
With the Spring athletics season underway, each Varsity team includes Middle School athletes on their rosters, including the Varsity Girls Lacrosse team, with three 7th-grade students.
"All the Upper School girls have been great at welcoming the Middle Schoolers, and two of the middle-schoolers have played lacrosse for a long time, so it's an easier transition," Varsity Girls Lacrosse Head Coach Cindy Reardon said.
Placing Middle School athletes on Varsity teams is not a new practice for the School, which has faced lacrosse and baseball roster shortages. Last spring, both Varsity Lacrosse teams recruited new athletes to field a team after two years without practices. This season, MIddle School athletes also appear on Varsity Tennis, Boys Lacrosse, and Baseball rosters.
Varsity Girls Lacrosse player Leah Bell '22 says that the team is "getting along really well despite all the different grade levels."
"We have three 7th graders, three seniors, and everyone in between, but I still think we have a really strong team connection," Bell said. "No 7th-grader is afraid to talk to anyone else on the team even with the age difference."
Lucie Shimomura '28, a 7th-grade athlete on the Varsity Girls Lacrosse team, echoed Bell's sentiments.
"Playing on the Varsity Lacrosse team is very fun, and everyone is inclusive," Shimomura said.
"All the girls are so kind, and I look up to them as mentors," 7th-grade teammate Alexa Dykeman said. "Everyone is willing to help teach me new tips, and I've bonded with many of the girls."
Quinn Teschke '27, an 8th-grade athlete on the Varsity Boys Lacrosse team, also feels welcome by the older players.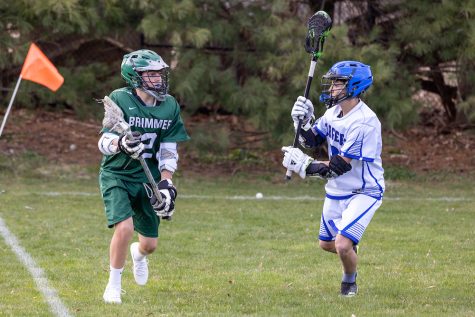 "I feel confident playing at a higher level, and I like the challenge that comes with playing at a higher level," Teschke said. "I was intimidated at first, as I hadn't even played lacrosse before, but after my first game or two, I have felt less afraid. Practice with the older students has been very helpful. Many of my teammates have been playing for a while and provide helpful tips and are very encouraging."
Head Athletic Trainer Larry Stahley, who treats the School's athletes across all divisions, said there is "no big difference" between how he works with Middle and Upper School athletes.
"There are some issues and problems that we take into consideration, but for the most part, we expect them to be varsity athletes," Stahley said. "In my job in terms of treatment, it has been similar between middle and high school athletes."
The difference in players' physical ability does not necessarily bring up different challenges with teams across the Middle and Upper Schools, according to Stahley.
"For the most part, teams function normally with Middle Schoolers," Stahley said. "I think it's very great from what I've seen when the Upper Schoolers help to mentor the Middle Schoolers and make them feel part of the team. Many of these Middle Schoolers play outside sports like club and travel, so they are good enough to be playing."
Athletic Director Jeff Gates has allowed Middle School students to play Varsity sports for several years, but he says that safety, size, and an ability to play rank as key factors.
"Every Middle Schooler playing right now has passed those requirements, and that is the only reason they can compete," Gates said.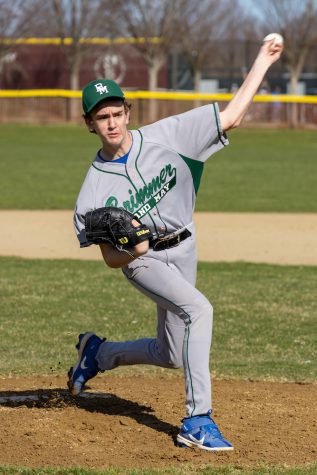 While Shimomura is having fun on varsity lacrosse, she does find some aspects of the game challenging due to her age difference.
"Some hard parts about lacrosse are playing against people that are much bigger and stronger than you," Shimomura said. "It can be very challenging when trying to do things like getting ground balls."
Adrian Mathiesen '27, an 8th-grade athlete who pitches for Varsity Baseball, has experienced similar emotions.
"Even though I am as tall as some of the guys, the difference in weight and how hard opposing players can hit and throw the ball has been different and a little scary," Mathiesen said.
Still, Mathiesen said that playing at a higher level has made him more confident in his abilities.
"It feels as if every success is amplified in my head because I am playing against players so much older than me," Mathiesen said. "The team has been very accepting of having an 8th grader on the team and has treated me as one of their own, which helps my confidence a lot."
Early into the spring season, Reardon is proud of her team's performance.
"The season is going great, and they are having a lot of fun," Reardon said. "All the coaching on the team has been normal amongst all the players, and it has been very enjoyable so far."
View Comments (1)
About the Contributor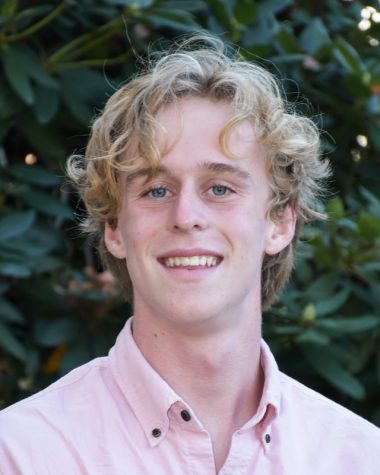 Brian Gamble, Outgoing Managing Editor
Brian enjoys playing lacrosse, running, and hanging out with his friends. He is excited about joining the newsroom and writing exciting stories.