Op-Ed: The 'Nevermind' Baby's Lawsuit is Childish
Even though Spencer Elden, the nude baby on the cover of Nirvana's album, Nevermind, has known about the record for his entire life, using it to his advantage, he's only now decided to sue at age 31. This seems like a publicity stunt.
On September 24, 1991, Nirvana released Nevermind, their second studio album, the first record released by DGC Records, and the first release with the drummer Dave Grohl. The album cover features four-month-old Elden in a pool, nude.  
In August last year, Elden filed a lawsuit with the U.S. District Court, arguing that being a naked four-month-old infant on the cover of "Nevermind" caused him emotional distress and that the image represents child sexual abuse. 
Nirvana's lawyers said that "setting aside that this premise is absurd," the photo was taken before the U.S. had a law allowing victims to sue under a statute regarding federal sex trafficking of children. 
"Like creators of other controversial album covers, the defendants sought to garner attention by using a sexually explicit image that intentionally focused on Spencer's carefully positioned enlarged genitals," the lawyers said. They allege that "the image of Spencer with his naked genitals displayed while grabbing at money resembles the actions of a sex worker." 
"
Maybe Elden thought that flaunting it would get him over his emotional distress, but it didn't—so he resorted to filing a lawsuit. If it was troubling him that much, he should have filed one sooner. "
The lawyer also said that as a result, he "has suffered and will continue to suffer lifelong damages," such as "extreme and permanent emotional distress" along with "interference with his normal development and educational progress" and "medical and psychological treatment."
I do not understand how being a naked baby on an album cover can interfere with his educational progress.
Elden sued for at least $150,000 from each defendant: the surviving band members Dave Grohl and Krist Novoselic; the manager of Kurt Cobain's estate; Courtney Love, Cobain's former wife; the photographer Kirk Weddle; and record labels Geffen and Universal Music. 
The defendants said that Elden's arguments lacked merit.
"Elden's claim that the photograph on the Nevermind album cover is 'child pornography' is, on its face, not serious," their lawyers said, adding that anyone who owned a copy of the record would "on Elden's theory [be] guilty of felony possession of a child pornography." Over 30 million people would be guilty of possessing child pornography, which seems quite excessive. 
They also noted that Elden enjoyed being the "Nirvana baby." 
"He has re-enacted the photograph in exchange for a free, many times; he has had the album title… tattooed across his chest; has appeared on a talk show wearing a self-parodying, nude-colored onesie, he has autographed copies of the album cover for sale on eBay; and he has used the connection to try to pick up women," the defendants said.
Judge Fernando M. Olguin ruled that because Elden knew of the photograph over ten years ago, he waited too long to file a report. He knew about it all this time, so he should have sued sooner if it was distressing him so much. In January, Elden's lawyers missed a filing deadline, ending in another dismissal. The defendant's lawyer Bert H. Deixler told the Times he was "pleased this meritless case has been brought to a swift conclusion."
Elden had dangled the fact he was the "Nirvana baby" in front of everyone, and he seemed proud of it. He used it to try and pick up women and even signed records. If he were as emotionally distressed as he says he is, he would not have done those things.
Maybe Elden thought that flaunting it would get him over his emotional distress, but it didn't—so he resorted to filing a lawsuit. If it was troubling him that much, he should have filed one sooner. 
Leave a Comment
About the Contributor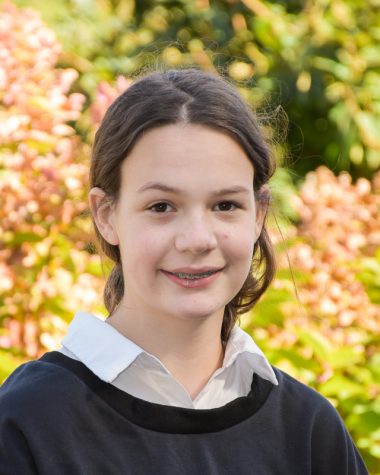 Madeleine Pogoda, Incoming Arts & Culture Editor
Madeleine has been at Brimmer since 2019 and she joined The Gator in 2021. In her free time, she likes to play guitar, listen to music, read, and drink tea. She likes to write op-eds, reviews, and debate tea.