Varsity Teams Prepare for Homecoming
October 13, 2022
As the 2022-2023 school year and fall sports season continues to progress, the Boys' and Girls' soccer teams are less than a week away from playing in the School's flagship fall sporting event, Homecoming, this Saturday. Coaches and players on both teams have expressed excitement about the upcoming matches, and community spectators note great anticipation for the event.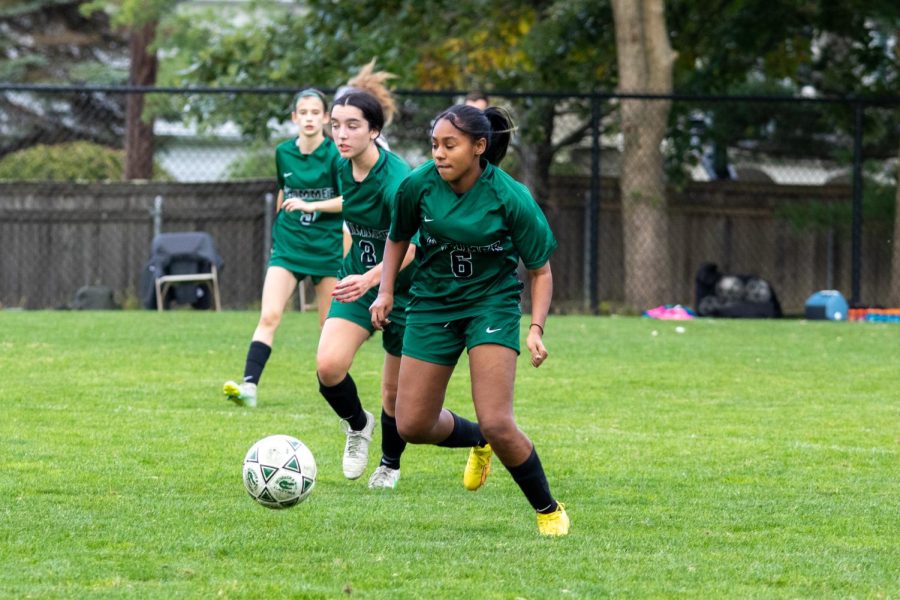 Varsity Girls Share High Hopes for Homecoming
Coming off of a season so far with two wins, three losses, and one tie, the Varsity Girls Soccer Team enters Homecoming with momentum from a two-game win streak they accrued last week.
"Our season so far has had its ups and downs," Team Captain Leni Hicks-Dutt '23 said. "We have tied and lost some games, but we won both games we had last week. Our season and skills have definitely been improving and I think there's a lot more progress we will make this season."
The team enters the competition against the Rocky Hill School, a new opponent for the girls' soccer team.
"I think the team is excited but nervous for the homecoming game," Hicks-Dutt said. "This will be our first time playing Rocky Hill for Homecoming, so everyone is eager to know how they play. 
Head Coach Mallorie Nai echoe Hicks-Dutt's sentiment with excited anticipation for the event.
"I'm really excited about [Homecoming]," Nai said. "I think Homecoming's always a really fun community event so there's a lot of excitement around the day, especially with the turnout."
Nai gave her thoughts on the team's chemistry and their goals going into Homecoming.
"I think the team feels very prepared and excited," Nai said. "We are on a three-game winning streak, so we have positive momentum going into a Saturday game like Homecoming."
For younger team and school members, Nai said that Homecoming represents a new experience to learn the ropes and play in front of the community. 
"As an athlete, it can be really hard to play in front of friends and family," Nai said. "For a lot of our players it will be their first Homecoming, so working on the mental side of things for Saturday, like staying focused and composed, while also having fun playing in front of a crowd." 
Athlete Shyla Fernandez '25, who has only played in one previous Homecoming game, is excited for the match.
"Homecoming is always a fun experience for everyone," Fernandez said. "Since the veterans are older and bigger, they may get more playing time, but everyone's playing and it is an awesome experience to be with everyone at the school and play."
However, for more experienced players, Homecoming signifies the culmination of all their years on the team, and it is one of the final opportunities they have to play for the School.
"I think this Homecoming is bittersweet," Team Captain Emma Guevara '23 said. "I think it is a big tradition and I have always been excited to play, but it's going to be a little sad that its going to be my last Homecoming game. It's going to be super fun, especially since we're playing a new team, but at the end of it I'm gonna be a little emotional."
While athletes anticipate the upcoming game in different ways, they all resound the same universal feeling about the atmosphere of playing at Homecoming.
"I would say my favorite part of homecoming is the sense of community with everyone," Hicks-Dutt said. "Watching sports, eating good food, and hanging out with friends I think is the best way to come together and be a part of a community."
"The Homecoming vibe is great," Guevara said. "A lot of alumni come, including my siblings, and they go to cheer me on. It's just a lot of good vibes with the food and the traditions our team has, like having breakfast together and applying facepaint before the game."
For Nai, Homecoming offers a way to show off the team's work this season.
"It should be a really competitive game, so we're excited to compete and showcase what we've been doing," Nai said.
Leave a Comment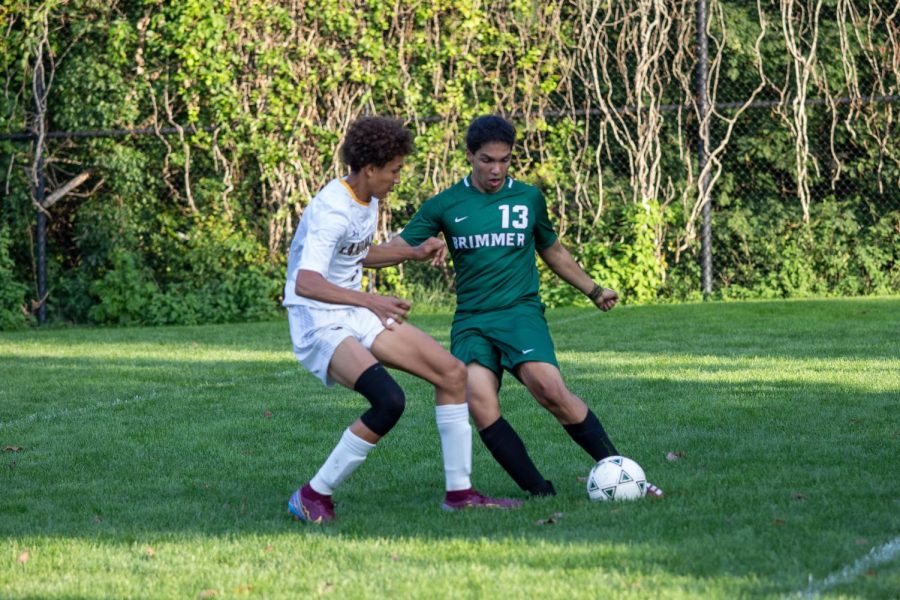 Varsity Boys Soccer Anticipates a Challenge
The Varsity Boys Soccer Team, coming off of their recent 4-0 win over the Cambridge School of Weston, now turns their attention to their next game, where they match up with the Rocky Hill Country Day School this coming Saturday.
Three years ago in 2019, the Boys team went on an impressive run, winning the league championship and making it to the Class D NEPSAC Finals, a feat that had been rarely accomplished in league history. In the finals, they faced Rocky Hill, and in a match that saw both teams fighting until the very end, the opposition prevailed, beating the School 2-1.
Since the match, the School has played the Rhode Island team once and was defeated again. For Team Captain Sevak Glorikian '23, the only veteran player from the 2019 run, "revenge might be due in order."
"It's definitely a scary game to go into, but I'm looking forward to it," Glorikian said. "We can see how our team has progressed against strong competition. It's gonna be a difficult and hard-fought game and there's a good chance of failure, but we plan on fighting with everything we got."
After a rocky start to the season, the team has put together back-to-back wins, building momentum ahead of Homecoming. For Head Coach Chris Hardman, the Homecoming battle represents a chance to show team improvement as a whole.
"Yeah, Rocky Hill is definitely going to be a tough challenge, but I'm not afraid to take them on and I know the team isn't either," Hardman said. "We had a rough start with four straight losses, but we've certainly turned it around with back-to-back wins, and the team has gelled together nicely. We know we have the talent and chemistry to compete with a top school, and we're excited to show it."
Homecoming has a varying effect on each of the players. For younger athletes who have just recently joined the team, the first homecoming can be a nerve-wracking and exciting experience.
"Last year, I was there for homecoming, but I was sidelined by an injury," Lucas Williams '25 said. "This year, I'm very excited to be able to play in front of the Brimmer community."
However, the event can also have a different effect on the 12th-grade players, who have played for many seasons and will be stepping on the pitch in front of the School for the last time.
Even for injured Team Captain Owen Williams '23, the event still holds a significant personal place.
"Yeah, [Homecoming] is a special event that's really meant to celebrate the players and demonstrate that the school is always supporting the members of the teams," Williams said. "When I played in Homecoming my freshman year it gave me a lot of confidence because I knew even if messed up, I knew that the alumni, teachers, and students would still cheer me on." 
Regardless of the Boys performance, homecoming is sure to be one of the biggest events for the school's community throughout the year. 
Leave a Comment