Op-Ed: Outgoing Goalie Reflects on Final Season
My career here was full of accomplishment, growth, and amazing teammates.
In soccer, goalkeepers save an estimated 17.57 percent of penalty kicks.
This is a number I tried to keep in mind when I walked onto the soccer field, surrounded by yelling and cheering, and took my place in front of the net for the last time in my high school career.
A playoff game gone into double overtime is usually decided by penalty kicks; best of five different shooters. This is every goalie's worst fear. I had only practiced penalty kicks a handful of times, the most recent time being the day before the game.
Safe to say, it was one of the first and only times that season where I truly felt way in over my head.
Senior year, as many will tell you, is nothing short of a whirlwind in the first few months. Oftentimes I found myself juggling so many assignments that some nights I would work until my parents ordered me to go to sleep.
But soccer provided me with an outlet. I've always enjoyed the sport, but this year I allowed myself to fully immerse myself in it. As a captain, I looked for ways to help the team bond and to make the most of every practice.
I've played soccer for the School since my first year here, all the way back in sixth grade. I tried my hand at playing goalie mostly on a whim. To be completely honest, the reason I wanted to be a goalie was that I hated running. Admittedly, I was not a very motivated athlete at the time.
But every season after that, I continued to strap the gloves on. I was mostly self-taught, having most of my training come from my teammates shooting at me during practice. I had the instincts for it, and that was enough junior year when I finally received formal training.
But most of all, I had the ability to remain calm under the pressure.
I'll be the first to admit that I don't give myself a lot of credit. I hold myself to high standards, and if I fall short of those standards, I'm very rough with myself. But when I'm standing in the net, watching a ball coming hurtling towards me, every part of me is reassured.
Even during games where I was the only thing standing between a landslide, I fought with everything I had. Most of that, I think, came from the reassurance that my team would have my back, no matter what.
For the past three years, my defensive team members have been my guardian angels. Guardian angels with monster kicks and fierce determination. I knew that I could rely on them– and I would step up for them the way they did for me.
This team allowed me to reach new heights, literally and figuratively. They allowed me to be a leader, try new things, to face new challenges. They let me walk away from my first shootout with my head held high.
I had my first extension dive in a game. I had my first goal. I had my first time playing as a forward during senior night. I was able to try and accomplish so many new things because of my team, and I wouldn't have it any other way.
This is one of the many reasons that I believe everyone should play a team sport at least once in their lifetimes. There is no replacement for that sense of comradery, and that shared sense of victory or defeat. You carry it together.
Most of all, nothing beats the feeling of knowing that this group of people believes in you. Even when things don't go your way.
I don't know what the college soccer field will hold for me. But I know that I will always value my time on the Brimmer and May soccer team, where I learned how amazing it feels to have a team behind you.
It hurts to acknowledge that I'll never put on that green uniform again, but I'm grateful that I had the opportunity to do so, and that I had coaches and teammates that believed in me enough to let me be their last line of defense.
Leave a Comment
About the Contributor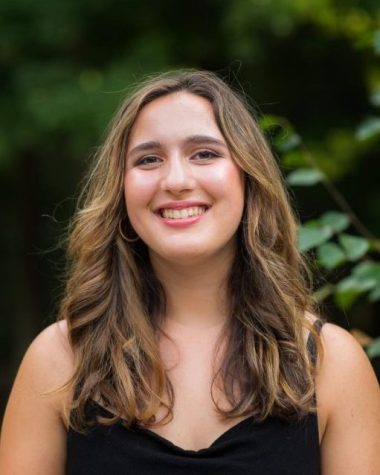 Grace Papas, Executive Editor
Grace has attended Brimmer since in sixth grade and has been a part of The Gator for her entire high school career. She enjoys writing, photography, listening to music, and playing soccer. She's incredibly grateful for the opportunity The Gator gives her to express her ideas.