Faculty, Administrators Address Vaping at School
With wellness and substance abuse prevention expert Will Slotnick visiting the School for the sixth consecutive year, the topic of vaping and smoking has been on the minds of the School's faculty and administration.
In recent years, as vapes became increasingly popular, teenagers constituted the primary market. Vapes formally came onto the smoking market in 2007, and seven years later, they were the most popular tobacco product used by teenagers, according to the Centers for Disease Control and Prevention (CDC).
Around 2.5 million adolescents vape in the United States, some of those young people are even as close as at the School. Upper School Head Joshua Neudel told The Gator that while "percentagewise [vaping] is less of an issue at Brimmer than it is at other schools," it is still an issue.
In the past, the School has brought in specialists like Slotnick, the founder and director of Wellness Collaborative, to speak to students about how vaping or taking other forms of drugs can affect one's psychology and physiology.
As a recovered addict himself, Slotnick had a few words of advice for young people also struggling with recovery or addiction.
"Trust people. Reach out. Make connections with others. Know that everybody struggles. Everyone, particularly during adolescence, is struggling with something. Find people you trust to share that with so that you're not alone with it," Slotnick said.
During a Morning Meeting last December, Neudel told students that those who reach out for help would be met with resources and support from the school and its community. They would not be punished for seeking help, he emphasized.
Neudel also mentioned how teachers are being more vigilant about identifying signs of vapes in bathrooms, like a fruitful smell or a heavy scent of perfume trying to mask it.
If the problem continues and if the students that are partaking in vaping do not seek help, Neudel said that teachers may have to implement new rules about limited free periods and how often students can visit bathrooms.
Director of Health Services Beth Escobar offered advice to the student body, especially to those who struggle with addiction. "If you need help with a problem with addiction… there are people who can help you… Find a trusted adult and get real, share your feelings, and be prepared; it will ebb and flow."
Leave a Comment
About the Writer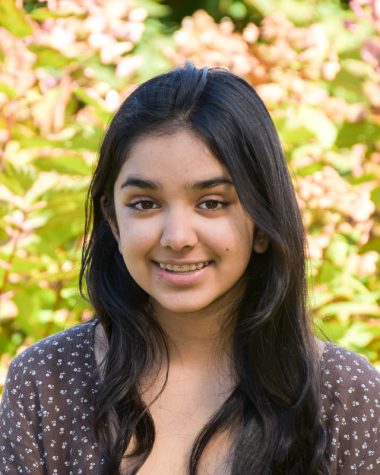 Meera Gandhi, Journalist
A new writer,
Meera
 is currently in 9
th
 grade.
 She was new last year and loves trying more things within
Brimmer. She
 loves culture, baking music and
spending time outdoors with her dog, Bailey.
She is looking forward to more years on The Gator.