This Spring, Fewer Games for Boys Baseball and Lacrosse
The number of games for Varsity Baseball and Varsity Boys Lacrosse will be reduced to seven each, due to a decline in participating teams in the Massachusetts Bay Independent League (MBIL).
In comparison, Varsity Softball has 12 scheduled games, while Varsity Girls Lacrosse has nine.
"In years past, we've had about 12 games before playoffs, but now we have seven, including our first playoff game," Baseball Team Captain Zak Adler '23 said. "This is because other schools in our league have struggled with finding the numbers to field full teams."
This season, two other teams in the Massachusetts Bay Independent League have dropped out. This has left the Varsity Baseball team with only three other teams to compete against.
"We have a lot of practice time this season and put a lot of work in only to end up playing about six games in total, so it isn't really ideal," Adler said.
Varsity Boys' Lacrosse Captain Owen Williams '23 shares Adler's sentiments.
"When I first played Lacrosse here in Middle School, I remember there being around double the number of games that season," Williams said. "It's really unfortunate, too, because I feel like we need more games for some of the newer guys on the team to get more comfortable playing the game."
While the game reduction has been disappointing for some, coaches look at this change favorably.
"The benefit of a shorter season is that the guys will be well-rested," current Varsity Baseball Coach Doug Avellino said. "We have a few guys on our pitching staff who can throw pretty well, so keeping them healthy until the right time will be good for the long run. We're also a small team with only 13 guys, so staying injury-free is very important."
Like Avellino, Boys' Varsity Lacrosse Coach Christian Stratter sees the benefits of an abridged season.
"We're excited to start our games," Stratter said. "The short season is going to be good for us because it lets us introduce the game better to some of the newer guys. Since lacrosse is a contact-heavy sport, the reduced games also let us train everybody up better than they could otherwise be."
School Athletic Trainer Larry Stahley said that the lack of games, though unfortunate, comes with playing in a small-school athletic league.
"The issue with a lot of schools in our league fielding full teams simply comes from their small student populations," Stahley said. "If there is a lower level of interest in a certain sport one year, then it becomes really hard to field a suitable team to play that sport."
Despite his team's reduced schedule this season, Stratter is still excited for the rest of the season.
"I think we will have a great time," Stratter said. "It is going to be a great season and we still have a lot of awesome opportunities to compete."
Leave a Comment
About the Contributor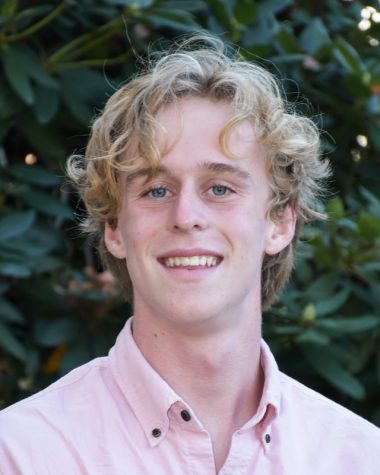 Brian Gamble, Outgoing Managing Editor
Brian enjoys playing lacrosse, running, and hanging out with his friends. He is excited about joining the newsroom and writing exciting stories.