Op-Ed: Top Uncommon U.S. Summer Vacations
Summer is approaching fast and families look for vacation spots to spend their time. I compiled a list of ten lesser-known summer locations to visit. 
Asheville, North Carolina
Asheville, a vibrant city rising out of the Blue Ridge Mountains is the first location on this list. Asheville is known for its music scene as major concerts come to the city every year and the arts with the River Arts District downtown and the many instances of street art. The food in Asheville is superb as you must try the mountain inspired cuisine Asheville offers. You can also visit the famous Biltmore, the former mansion of the Vanderbilts, and marvel at the chateaux and its accompanying winery. And if you are into active vacations, Asheville is also the perfect spot for you. Many hikes and trails nearby have waterfalls and you can catch a sweet look of the blue hue of the mountains. (2 hour 30 minute flight non-stop from Boston)          
Aspen, Colorado
Another mountainous town, Aspen, lies in the Rocky Mountains. Known for its world-renowned skiing, Aspen is an underrated summer vacation spot too. One of Aspen's unique features is Maroon Bells. In the summer, you will be able to hike trails to see the 14,000 foot mountain and its lake, Maroon Lake. You will also be able to walk through the ghost village of Ashcroft as you wander the old Wild West. Speaking about the Wild West, you will be able to catch a rodeo at Carbondale. Head over to Snowmass to enjoy a tree climbing and ropes course experience or the fast flying self-driven roller coaster available. If you are looking for a laid back option, every Saturday, Aspen holds a Farmers Market with many local foods on display. (6 hour 45 minute flight with layover from Boston) 
Newport, Rhode Island  
While Cape Cod gets most of the attention from New England folks, Newport, Rhode Island is a great alternative. Newport, a quaint New England town, boasts many adventures and beaches such as Easton's Beach. Or if you are in the active mood, take a walk in Cliff Walk. Cliff Walk, a 3.5 mile walk along the Atlantic, displays the ocean and the many mansions. Be sure to take good walking shoes as rough terrain such as rocks replace paved roads on the walk. The most famous mansion along Cliff Walk, The Breakers, were formerly owned by Cornelius Vanderbilt displaying a striking image of their wealth in the Gilded Age. Take a drive by Ocean Drive as the waves crash upon shore. Enjoy live music at the Newport Jazz and Folk Festivals at Fort Adams. As well, the International Tennis Hall of Fame hosts the Van Alen Cup each year. Lastly, the food in Newport is spectacular. Look to go by the Banister Wharf/Thames Street area for cuisine such as clam chowder and lobster. (1 hour and a half drive from Boston)
Astoria, Oregon 
About an 1 hour, 30 minute drive from Portland, Astoria is the ideal ocean retreat in the West. Take a walk on the Astoria Riverfront and take in the ships on the Columbia River. On the Riverfront, Columbia River Maritime Museum shows the history of the river as well as the history of the Pacific in the Pacific Northwest. The museum also has a 3D movie screening that explains the history. The Astoria Column is another attraction many visitors take on, as they climb up the 160 plus stairs to the top to catch fabulous views. Lewis and Clark National Historical Park shows the history of the Lewis and Clark journey that expanded the United States. Finally, take the scenic Pacific Coast Highway down the Pacific Coast. Astoria lies on the historic route that runs from Seattle to San Diego. (6 hour flight from Boston to Portland and 2 hour drive from Portland) 
Bar Harbor, Maine  
A small island in the Gulf of Maine, Bar Harbor is known for its beautiful sights. The main attraction, Acadia National Park is among one of the top visited National Parks in the U.S. With over 150 miles of hiking, families can find plenty of animals and the views are spectacular. Locations worth seeing in Acadia include Jordan Pond and Thunder Hole. Take out a boat and sail on Frenchman Bay or take out your hiking shoes and climb Cadillac Mountain. Cadillac Mountain is 1,500 feet in elevation and offers stunning views of Acadia National Park. Finally, visit Agamont Park and enjoy the luscious landscape. (4 hour 30 minute drive to Boston or a 1 hour flight) 
Traverse City, Michigan
Right on Lake Michigan, Traverse City lies on the Lower Peninsula of Michigan which boasts many vineyards and cherry orchards. Traverse City is known to be called the Cherry Capital of the World. Enjoy the lake by The Sleeping Bear Dunes National Lakeshore, a 64 mile long beach. Or kayak on Lake Michigan with friends and family. Take a stroll down Front Street and explore the magic of downtown Traverse City. Visit the many stores and restaurants populated on the street to get a quaint town sense. Take a walk or bike ride on Traverse Area Recreation Trail (TART) or spend your afternoon gazing out of Mission Point Lighthouse into the Lake. (2 hour 25 minute flight non-stop from Boston) 
Savannah, Georgia
Located on the Savannah River, Savannah brings the old-timey feel that you would expect in New England. The most famous attraction, 30-acre Forsyth Park features oak trees adorned in Spanish moss. The park also has a photo-worthy fountain that was built in the 1850s. Visit Chippewa Square, the square made famous by the movie Forrest Gump. Savannah is known for its history and the city is lined with mansions. If beaches are your thing, head to Tybee Island, just a 25-minute drive from Savannah. Another island worth visiting in the Savannah area is Hilton Head across the border in South Carolina. Hilton Head is an hour drive from the city. (2 hour 40 minute flight non-stop from Boston) 
Spokane, Washington
Situated in eastern Washington, Spokane is most known for its outdoor attractions and connections to nature. The biggest attraction in Spokane is Riverfront Park. Riverfront Park is 100 acres and has many amenities such as an IMAX theater and an ice skating rink. The park opened in 1974 due to the World's Fair. The  Northwest Museum of Arts and Culture (MAC) shows the history of the region with over 1 million artifacts. If you're looking for a stroll, head to Centennial Trail which is 37 miles along the river that offers incredible views. Lastly, you can visit Manito Park that holds many gardens full of flowers and trees. (8 hour 20 minute flight with layover from Boston) 
Kiawah Island, South Carolina
About 40 minutes from Charleston, Kiawah Island is the ultimate island getaway. Most known for its golf, as the Kiawah Golf Course held the 1991 Ryder Cup. You can get your own game started on the famed 18 hole course on the water. Head to Beachwalker Park to catch rays of sun and soak in one of Kiawah's many beaches. The island also has 30 miles of bike path for families to ride on while admiring views of the water and animals. Lastly, walk through Freshfields Village to get fresh food and shop for souvenirs. (2 hour 20 minute flight from Boston to Charleston and 45 minute drive from Charleston) 
Whitefish, Montana
Our last location on this list is the mountainous town of Whitefish in Montana. With Glacier National Park just 30 minutes away, you are able to travel to one of the most renowned National Parks in America. Glacier is known for its glaciers and grizzly bears, but one should not discount the beautiful lakes with colorful pebbles or mountains in the background. But Whitefish has some options as well. You can kayak on Whitefish Lake or Flathead Lake. You can also hike the Whitefish Mountain, primarily known for its skiing. Enjoy a walk through downtown Whitefish as all stores are local and not major chains. You can also take the ride to Kalispell to visit Lone Pine State Park that offers several miles of trail. (8 hour flight with layover to Kalispell and 25 minute drive from Kalispell) 
Whether you are into lying on the beach or hiking mountains, these locations are a must-see for any family. 
Leave a Comment
About the Contributor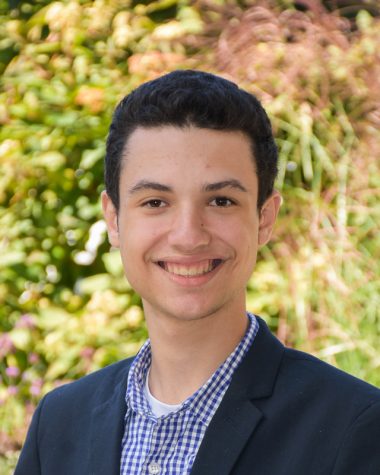 Evan Michaeli, Executive Editor
Evan is passionate about saving the environment and learning geography. When he is not writing articles for The Gator, he enjoys watching and playing sports, especially baseball.