Op-Ed: Testing Disrupts Student Health
Each year, midterm exams assess a student's knowledge of their coursework. Across the nation, school boards and administrators feel that these tests can accurately represent a student's academic standing.
However, this couldn't be further from the truth. High-stakes testing is an extremely stressful time for students. 
This is compounded by students forgoing extracurricular activities, especially physical exercise, to cram in more studying.
Increasingly, teachers here assign projects instead of midterms, a wise decision which more educators should follow. This trend began in earnest in 2017, when Upper School Head Joshua Neudel ushered in changes to midterms, offering teachers greater choice about whether and how to offer the exams.
"I have to stay up really late, which has made me not get enough sleep," Madeline Hsiao '23 said. "The workload has taken a toll on my mental health, making it hard to keep the work from all the classes under control. If you think about it, it's crazy how much we have to manage."
The anxiety around midterms extends even extends to higher education.
In a recent article from the Mass Media, the student newspaper of UMass Boston, Manuel Manave writes about how stress, combined with a lack of sleep, can cause illnesses or extreme headaches.
"The physical impact could include feeling weak or tired due to a lack of sleep, which could lead to possibly coming down with a cold or even the flu," Manave wrote.
By eliminating midterms, schools could prevent students from feeling unwell.

"The weeks leading up to midterms are very stressful because I'm finding myself going back and studying things that I learned all the way back in September," Chloe Scholnick '25 said.
Leah Bell '22 emphasized how being a senior has created additional stress during exams.
"Students are relearning content from months prior to exams, only to vomit information on a piece of paper," Bell said. "In my opinion, midterms are very stressful, especially for seniors, like me, who also have to submit college applications. Also, midterms are worth a certain percentage of your semester grade, which only adds stress."
As students continue to feel an uptick in anxiety over exams, according to Zoe Hicks-Dutt '24, it also becomes difficult to keep up with homework.

"Studying for midterm exams is challenging to manage with homework from all my classes, as well as the pressure of doing well on the test," Hicks-Dutt said.
As students experience significant stress around midterms, more teachers should focus on projects, a more accurate measurement of learning, rather than a quick snapshot of what a student knows at one moment.

To really show that they care about student well-being, especially during a pandemic, it's time for schools to toss midterms.
Leave a Comment
About the Writer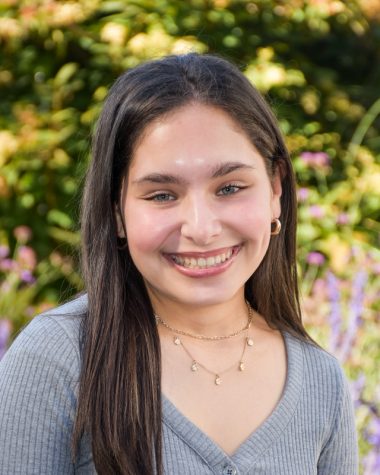 Talia Hammer, Journalist
Talia has been at Brimmer since 2017. In her free time, she enjoys spending time with friends and family and playing with her dog.