Op-Ed: Life Is Bigger Than Sports
Sports fans tend to idolize athletes, expecting nothing short of greatness. Athletes are not supernatural human beings. Athletes are not programmed robots made from titanium. Athletes are humans, just like me and you. Humans that take care of families. Humans that suffer injuries. Humans who have emotions. It is time we treat athletes that way. 
Monday night's crucial game between the Cincinnati Bengals and the Buffalo Bills came to an abrupt halt after Bills' safety Damar Hamlin collapsed on the field.
Hamlin fell to the ground after making a tackle on Bengals' wide receiver Tee Higgins with just under six minutes remaining in the first quarter.
His teammates gathered around, in tears while Hamlin received CPR on the field for several minutes. After such a tragic scene, neither team wanted to continue playing. Ian Rapoport, an insider for NFL Network, reported "Neither coach was talking about resuming play, the players weren't. … It was really about Damar. … How do you resume playing after you've seen such a traumatic event?" As a result, The NFL decided to postpone the game.
Following the injury, Hamlin has received immense support from the NFL community over Twitter. Bills quarterback Josh Allen wrote, "Please pray for our brother."
Arizona Cardinal defensive end J.J. Watt tweeted, "The game is not important. Damar Hamlin's life is important. Please be ok. Please."  Watt shared in October that he needed his "heart shocked back into rhythm" after feeling ill.
Hamlin was moved to the University of Cincinnati Hospital late on Monday night. 
Various Bengals and Bills fans congregated at the hospital to offer support for Hamlin. The  fans arranged a prayer outside.
Among the fans was Bills wide receiver Stefon Diggs. Per Ari Meirov, Diggs was initially denied entrance into the hospital, but Diggs told the police, "I need to be there for my teammate."
Moreover, fans from all over football found a GoFundMe organized by Hamlin to help buy toys for kids in need for the holidays. His first goal was to raise $2,500, but hours after his traumatic injury, the number skyrocketed to over $3.1 million.
One of the suspected causes of the collapse is a type of cardiac arrest known as commotio cordis. Commotio cordis occurs when there is a change in the heart's rhythm after a blunt force to the chest. Laura Michaeli, MD FACEP described the impact needed to cause a cardiac arrest saying, "If you are hit with force, there is a certain amount of Joules of electricity that is created by that force, and it confuses the rhythm of the heart."
While the condition is rare, it is important that medical assistance must be swift, complete with CPR and an AED.
However, physical wounds are not the only injuries competitors face. Recently, a slew of athletes have cited mental health as a concern.
Most famously, American gymnast Simone Biles stepped away from the 2021 Olympics after an onset of the "twisties." Biles' decision was just one of the calls for reform in mental health in sports. 
Many elite competitors declared their mental health issues. Japanese tennis star Naomi Osaka, former number one, wrote a fantastic article in the newspaper, Time, highlighting the mental struggles of a top athlete. "I do hope that people can relate and understand it's O.K. to not be O.K., and it's O.K. to talk about it," said Osaka.   
Furthermore, in the early hours before the All-Star Game in 2018, DeMar DeRozan sent out a tweet to his fanbase saying, "This depression get the best of me…"
Professional athletes are not alone. Student-athletes grapple with well-being too.
In May of 2022, the National Collegiate Athletic Association (NCAA) released a report accentuating the mental health crisis in college sports. The study showed that exhaustion and anxiety were at "elevated" levels. 25 percent of men student-athletes felt overwhelmed. Women student-athletes? 47 percent. The survey also notes that several student-athletes feel mentally exhausted and having trouble sleeping.
While rivalries and sports divide supporters, it is heartwarming to see teams come together after a dreadful scene. The sheer humanity in fans from around the league to support Hamlin is outstanding.
However, we must keep these motives consistent. Leagues come together for the major injuries, but fail to consider the smaller injuries that happen each game.
Fans can be harsh on players. Very harsh. One mistake and jeers rain down from the stands, their hard work is forgotten. Suddenly, these players transform into the city's archrival.
In 2021, the New York Mets went through a tough stretch. Fans were irritated and would ridicule the Mets. However, when the Mets played well, players would flash a thumbs-down sign to the fans in retaliation. Shortstop Javier Baez was among the players to signal to the fans. Baez's explanation? "We're not machines. We're going to struggle seven times out of ten," Baez said to the press.
Players have reported social media attacks from fans after poor performances.
Over fifty abusive and obnoxious Twitter users spewed racist rhetoric to a trio of English soccer players after the team's loss in the Euro Finals in 2021 to Italy. Luckily, Twitter banned the accounts.
Competitors are subject to taunts from the opposing team that might have gone too far. I am one that should know about these assaults. As a Boston sports fan, I know that our fanbase partook in horrific acts against opponents in the past.
No one should be thinking about the impacts of tonight's game on the playoff race. Skip, this goes to you. Instead, we all need to have Hamlin and his family in our thoughts.
On SportsCenter, former NFL player Ryan Clark provided his beliefs on the situation. "The next time we get upset at our favorite fantasy player or we're upset that the guy on our team doesn't make the play and we're saying he's worthless… we should remember that these men are putting their lives on the line to live their dream," said Clark.
As Hamlin himself said at a press conference after an injury sidelined cornerback Dane Jackson in a massive victory over the Tennessee Titans in September, "Life is bigger than football." 
View Comments(1)
About the Contributor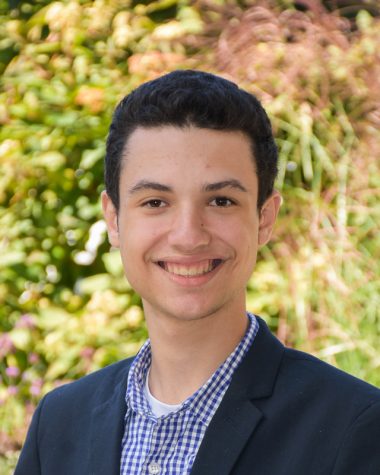 Evan Michaeli, Executive Editor
Evan is passionate about saving the environment and learning geography. When he is not writing articles for The Gator, he enjoys watching and playing sports, especially baseball.