Op-Ed: Ohio Train Derailment Highlights Distrust for Authorities
A pile of train cars scattered throughout a barren field. Flames burst out of the chaos. A plume of smoke billowing over East Palestine, Ohio. 
These apocalyptic scenes describe the hazard zone the small town became after a trainwreck. 
On February 3, a Norfolk Southern train carrying dangerous chemicals derailed in East Palestine, just a few thousand feet away from the state border with Pennsylvania. 
Unfortunately, it seems that after every environmental mishap, regulation and responsibility never follows. However, we must demand change after such a cataclysmic catastrophe.  
First, politicians must listen to the community impacted. To their disappointment, Ohio citizens do not feel heard by public officials.
A prime example of the political cold shoulder is when Ohio Governor Mike DeWine and the Environmental Protection Agency (EPA) Administrator Michael Regan gingerly sipped the tap water at a home in East Palestine. 
Despite the reports of thousands of dead animals and workers calling in sick, politicians jumped the gun deciding the water was safe to drink. This is a heinous political trick on residents whose lives are now in jeopardy. Instead of coming up with solutions, politicians downplay the seriousness of the derailment. 
One of the chemicals being transported was vinyl chloride, most commonly used as a substance to create plastics. The EPA notes that cancer is a "major concern" for those who inhale vinyl chloride, increasing the risk of developing a rare type of lung cancer. Furthermore, the EPA classified vinyl chloride as a human carcinogen. 
Tests show that water sources around East Palestine are safe; however, when considering the possibility of highly toxic chemicals leaching into water sources, safety should always be a concern. The residents of East Palestine depend on the water for drinking, but also bathing and cleaning. 
It is no wonder that locals in East Palestine detail a multitude of illnesses, including rashes and bronchitis. 
Marti Sinclair, a tenant from Cincinnati which is two hundred miles down the Ohio River from East Palestine, is concerned about the impulse to jump to the cleanup phase without the account for human safety. 
During an interview with The Gator, Sinclair mentioned the 2000 Martin County catastrophe which released 250 million gallons of coal slurry into the Ohio River.
"Authorities upstream assured some of the communities that the water was safe to drink… a couple of days later, they said that pregnant women shouldn't drink the water," Sinclair said. "That rush to say, "yes, we are in the cleanup phase" when people are still experiencing  symptoms, when there is still contamination there that is affecting people is a real problem."  
Another environmental incident that Sinclair noted was the Cincinnati styrene leak. In August 2005, styrene, a flammable material, seeped from a parked train. 
"When I went to the public hearing, people wanted to know how to clean up their properties after they returned from evacuation, and nobody could answer the question," Sinclair said. 
Sinclair is also a member of the state's Sierra Club chapter, the nation's largest environmental organization.
Meanwhile, Norfolk Southern continues to shirk responsibility for the episode. Some Norfolk Southern employees chose not to attend a town meeting on February 15, citing security concerns. 
"
When I went to the public hearing, people wanted to know how to clean up their properties after they returned from evacuation, and nobody could answer the question.
— Marti Sinclair
While the CEO of Norfolk Southern Alan Shaw claims that the corporation is willing to help the  community in a letter, responsibility is nowhere to be found. 
Luckily, the EPA ordered Norfolk Southern to pay for the cleanup and will fine the rail company $70,000 a day if the cleanup is not finished. 
Regan said in a statement, "Let me be clear: Norfolk Southern will pay for cleaning up the mess they created and for the trauma they've inflicted on this community."
The derailment also shines a light on the failures to reform infrastructure in the United States. In 2021, the American Society of Civil Engineers released their four-year report card, known as the 'Infrastructure Report Card.' The categories considered include, but not limited to, broadband access, drinking water, bridge stability, and solid waste. 
The results were horrifying. Overall, the United States received a C-. 
25 percent of Massachusetts roads are in substandard condition. 22 percent of Rhode Island's bridges were deemed "structurally insufficient," good enough for a D- in the category.
Ohio got a D+ in hazardous waste management and B in rail. 
An essential part of urban infrastructure is public transportation. Yet, the government is failing to provide sufficient support for projects, often leading to poor transit lines. In the report card, the transit sector average in the U.S. was a D-. 
My peers and I know this struggle all too well. In July, the Orange Line caught fire in Somerville. During the fall, the MBTA riders suffered several delays due to reduced timing. Just this week, a power surge swept through the train system, disabling all trains for at least ten minutes. 
It is high time to start enhancing our transit systems. Public transportation is crucial to urban life, and provides access for many to the city centers which offer healthcare and other services. 
Moreover, train derailments are fairly common in the United States. More than 1,700 derailments occur each year. The number does not have to be that high. We must introduce regulations to limit the amount of train derailments, so that the tragedy in East Palestine never happens again. 
We need to invest in more regulation against carrying toxic chemicals. Federal investigators concluded that the wreck was "100 percent preventable." Recently, House Democrats introduced a bill that widened train safety including a new definition for a "high-hazard flammable train," slower speed limits, and up-to-date braking. 
East Palestine must serve as a wake-up call to environmental disasters for public officials and corporations. It is time to break away from the typical inaction and start making changes to avoid environmental disasters in the future. We must protect our rights to clean air and water. 
Fierce flames, decreased train safety, and toxic spills are not symptoms of taking care of our planet. Corporations and legislators must face the fact that we must nurture our home. We only have one planet, we are obliged to treat it well.
Leave a Comment
About the Contributor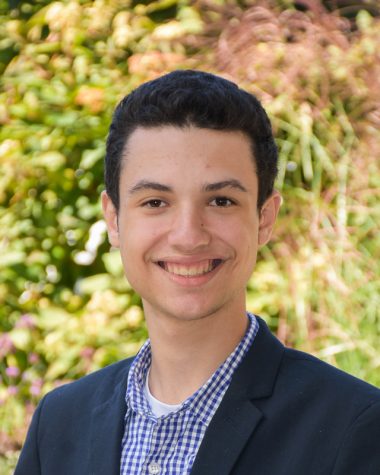 Evan Michaeli, Executive Editor
Evan is passionate about saving the environment and learning geography. When he is not writing articles for The Gator, he enjoys watching and playing sports, especially baseball.