Op-Ed: Taking a Stand on SFFA v. Harvard
Seniors in David Cutler's Government class recently completed a mini-unit on the First Amendment and the history of protest in America. As part of a weeklong assignment, students researched effective ways to have their voices heard on major political issues that matter to them.
In the following entry, international students Catherine Teng '19 and Yvonne Xi '19 write about a poster they created to help raise awareness of the controversial Supreme Court Case, Students for Fair Admissions (SFFA) v. Harvard, about whether the nation's most prestigious academic institution discriminates against Asian-American applicants.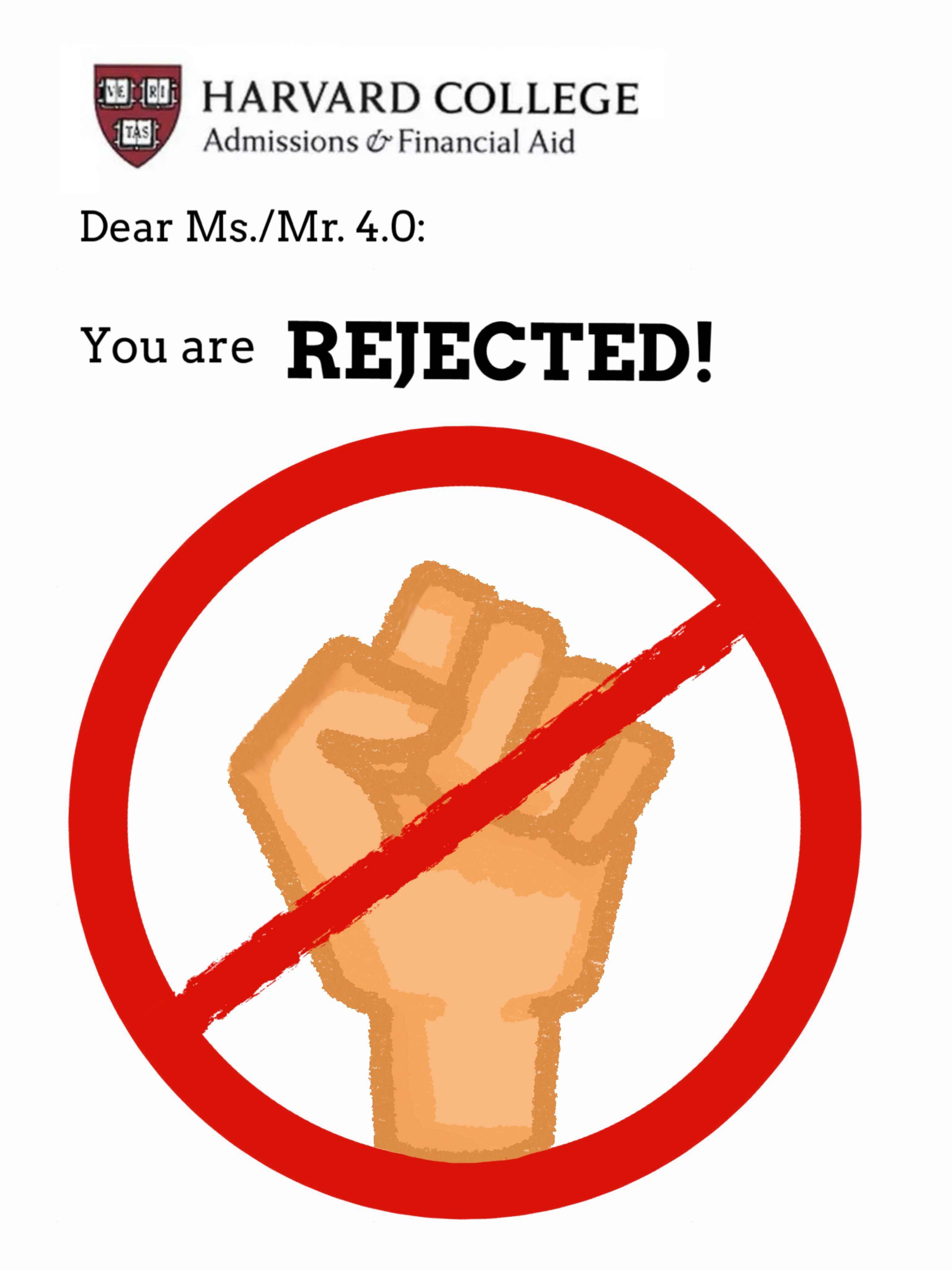 We applaud and back the Supreme Court challenge brought forward by Students for Fair Admissions, which maintains that Harvard engages in unfair admissions practices, such as including a "personal rating" to lower the acceptance rate of Asian students, thereby violating the Civil Rights Act of 1964.
The case could very well decide whether schools, including independent schools, employ processes like affirmative action in selecting students to promote diversity.
A non-profit organization which reports membership of over 20,000, according to its web site, SSFA aims to "support and participate in litigation that will restore the original principles of our nation's civil rights movement: A student's race and ethnicity should not be factors that either harm or help that student to gain admission to a competitive university."
For its part, Harvard maintains that its admissions process follows a "holistic" admissions process, and that it's necessary to do so to ensure a diverse student-body. But the Justice Department, in a show of public support, has backed SSFA.
"The record evidence demonstrates that Harvard's race-based admissions process significantly disadvantages Asian-American applicants compared to applicants of other racial groups — including both white applicants and applicants from other racial minority groups," the Justice Department said in its report. 
The Justice Department also vilified Harvard's stance on rating students based on "good human qualities," such as "likability" and being a "good person," categories that SSFA claims continue to discriminate against Asians, who receive the lowest rating among students of all races in this category.
SSFA has presented damning evidence, showing, in part, that "an Asian-American applicant with 25% chance of admission… would have a 35% chance if he were white, 75% if he were Hispanic, and 95% chance if he were African-American."
In too many instances, Asians already deal with discrimination. When it comes to applying to college, as Chinese students, we should experience at least some reprieve from injustice and intolerance. We want to be judged based on our merit—not on the color of our skin or country of origin.
If you agree with our stance, you're encouraged to share our poster on social media feeds or at rallies and protests. We plan to do the same.
Leave a Comment