Acclaimed Scientist to Keynote at Grogan Symposium
Acclaimed scientist Derrick Rossi will deliver the keynote address for the 12th Annual Kenyon Bissell Grogan Humanities Symposium.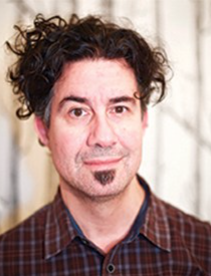 Time Magazine cited Rossi's discovery of modified-mRNA reprogramming as one of the top ten medical breakthroughs of 2010, and as one of the 100 most influential people in 2011.
This year's theme is The Global Tipping Point: What it Means and Where to Go From Here.
Rossi, who holds multiple prestigious positions in the scientific community—including serving as an Associate Professor in the Stem Cell and Regenerative Biology Department at Harvard University, and as an investigator in the Program in Cellular and Molecular Medicine at Boston Children's Hospital—will discuss how stem cell science is paving the way for new therapies to treat deadly diseases. His lab at Harvard Medical School focuses on several areas of stem cell biology, including how aging of stem cell compartments contributes to aging-associated decline and disease pathogenesis.
At the symposium, Rossi will discuss how his discoveries in the lab have become central to biotechnology and clinical development.
"My hope is that the talk… will be interesting, fun and perhaps somewhat educational — and also, if I'm lucky, that it may inspire one or more Brimmer students to think about stem cell science as a possible career choice," writes Rossi, responding to an email from The Gator.
Event Co-Chair Donald Reese says that he is "thrilled" with the idea of Rossi "igniting the innovative spirit of students and teachers alike," and that the School has also worked hard to attract presenters for breakout sessions.
"We really wanted to focus on this year's theme, while bringing in people who can give students a better understanding of how what they learn in the classroom can lead to a very successful and rewarding career," Reese says.
After the keynote, which begins at 10:45 a.m., students will attend afternoon breakout sessions, lead by experts in polling, stem cell science, cancer treatments, how social networks promote activism, how urbanization impacts global warming, innovative ways to respond to flooding and rising sea levels, and developing transportation infrastructure.
Breakout sessions
Victoria Budson (Women and Politics)
Victoria A. Budson is a founder and the Executive Director of the Women and Public Policy Program (WAPPP) at the Harvard Kennedy School of Government. WAPPP is the preeminent institution for advancing interdisciplinary research on approaches to closing gender gaps, educating students and leaders on gender policy, and implementing policy changes at local, state, and national levels. WAPPP created and hosts one of the field's most significant research seminars to foster faculty dialogue, promote the exchange of innovative ideas, and disseminate findings. Budson's policy advice is regularly drawn upon by leaders across the sectors including: the White House Council on Women and Girls, Secretary of State Hillary Clinton, the U.S. Senate Democratic Steering and Outreach Committee, the U.S. Department of State, and the U.S. Army and Air Force, as well as multinational corporations leading on diversity and inclusion. She is Chairperson of the Massachusetts Commission on the Status of Women and has served as a board member or advisor to numerous other organizations including the Eisenhower Fellowships, the Boston Mayoral Women's Workforce Council, the Global Thinkers Forum, Womensphere, Women2Women, the Women and Public Service Project, and the National Council for Research on Women..
Sean Neely (Transportation in a Changing World: Self-Driving Cars)
Mr. Neely practices civil engineering design and planning for transportation, working for a consulting firm in South Burlington, Vermont. He completed a master's degree at the University of Vermont (UVM) in civil engineering for transportation and a certificate of graduate studies in sustainable transportation systems and planning. He worked as a research assistant at the UVM Transportation Research Center both before and during graduate school. Prior to moving to Vermont, Mr. Neely practiced consulting for planning and engineering projects across the country. He holds a bachelor degree from the University of Southern Maine in environmental science and policy, with foci in community planning and geographic information systems (GIS).
Samantha Hale (The 5-0 and Y.O.U.: How can the people and the police get along?)
Teen Empowerment—The Center for Teen Empowerment (Teen Empowerment or TE) is an asset-based youth development program, founded in 1992, that reaches low-income youth and neighborhoods in Boston and Somerville, MA, and in Rochester, NY. Teen Empowerment inspires young people, and the adults who work with them, to think deeply about the most difficult social problems in their communities, and gives them the tools they need to work with others in creating significant positive change. In addition to youth-led social change initiatives that reach more than 6,000 youth and adults annually, TE provides consulting and training to other organizations, businesses and municipal groups. they also market and sell our book on interactive facilitation, Moving Beyond Icebreakers (www.movingebyondicebreakers.org).
Julie Eaton '05 (Climate Change Adaptation and Uncertainty)
Julie Eaton is a Brimmer alumna. She has Bachelor's degrees in Political Science (University of Rochester) and Civil Engineering (UMass Lowell), and a Master's degree in Civil Engineering (UMass Lowell). In 2005, she started off her collegiate career at Tulane University in New Orleans days before Hurricane Katrina landed. For over a decade, her academic and professional ventures have focused on looking at climate change resiliency and adaptation from policy and design perspectives. She works for Weston & Sampson Engineers and is currently the lead resiliency engineer for the Massachusetts Division of Capital Asset Management and Maintenance (DCAMM) Statewide Resiliency Master Plan.
Emma Rawls '02 (Gender: the Social Construct)
Emma Rawls, MSW, is a Brimmer alum and Boston native, who has had the honor and privilege of working with underserved communities (read: POC, LGBTQIA, youth of color, immigrants) for the majority of her career. She believes in the power of one's own story being the voice of resiliency and empowerment. She is a social justice advocate, clinical social worker, youth worker, and avid basketball fan. Currently working as a clinician with female identified women who are recovering from substance use.
Dr. Spencer Kimball (Election Polling—A presentation on the purpose of a political survey, the scientific process, and value of polling)
Dr. Kimball is the Senior Scholar-in-Residence at Emerson College teaching courses in Political Communication and is the founder and President of Kimball Political Consulting, LLC, a strategic communication firm. Spencer has authored the textbook Survey Says. . . a Practical Guide to Public Opinion Polling and serves as the adviser for both the Emerson College Polling Society and the Florida Atlantic University Business and Economic Polling Initiative. He is a Member of the Massachusetts Board of Bar Overseers, American Association for Public Opinion Research (AAPOR), American Association of Political Consultants, (AAPC) and is certified in Human Subject research by the Collaborative Institutional Training Initiative (CITI). His surveys have been cited on the floor of the U.S. Senate and published in national, international and local media outlet including Bloomberg News, The Chicago Tribune, CNN, Fox News, The Huffington Post, Real Clear Politics, MSNBC, National Public Radio (NPR ), The National Journal, and the Washington Post. In 2016, Bloomberg News ranked the Emerson College polls as the most accurate among all the college and universities for the 2016 Presidential Primaries.
Dr. Michael Misialek (Combining Medicine and Government to Fight Disease—Can we end cancer?)
Dr. Misialek is the Associate Chair of Pathology at Newton-Wellesley Hospital. He is the Medical Director of the Vernon Cancer Center, Chemistry Laboratory and Point of Care Testing. He practices in all areas of pathology in a busy community hospital. He regularly instructs medical students and pathology residents at Tufts University School of Medicine. Dr. Misialek is a strong advocate for pathology and is very active in the College of American Pathologists. He is passionate about bringing awareness to the valuable role pathologists
play in health care. He received his MD from the University of Massachusetts, did an internship in internal medicine at Boston Medical Center, and completed his residency in anatomic and clinical pathology at the University of Massachusetts Medical Center. He did a fellowship in general surgical pathology at the University of Florida and is board certified in Anatomic and Clinical Pathology.
Dr. Kathleen Torrens (The Education Will Not Be Televised: What skills will be necessary, and what opportunities await as learning moves online?)
Dr. Torrens is the Assistant Director of Online Learning at Harrington School of Communications and Media, URI. A member of the Communication Studies Department since 2003, Kathleen Torrens is a tenured associate professor. Her academic credentials include a Ph.D. from the University of Minnesota-Twin cities, and an M.A. and B.A. from the University of Colorado at Boulder. Her teaching covers rhetorical theory and criticism, public discourse, argumentation, public speaking, and communication fundamentals. Dr. Torrens' areas of research include public communication, online pedagogy, feminist rhetorical history, and Burkean studies.
Dr. Brook Foucault Welles (#Hashtag Activism—a Discussion of the Role of Social Media in Activism around Race and Gender)
Brooke Foucault Welles is an Assistant Professor of Communication Studies and Network Science at Northeastern University. She studies how online social networks can empower people to achieve personal, group, and social goals.
Doug Worthen (Mindfulness Going Mainstream: The History, Growth, Science, and Practice of Mindfulness)
Doug Worthen is the Director of Mindfulness Programs at the Middlesex School in Concord, MA. He first taught mindfulness at Middlesex in 2010 and now holds classes for students, faculty, staff, and parents. Mr. Worthen began practicing mindfulness meditation in 1999 as a member of the UVA national championship lacrosse team and has been a dedicated practitioner ever since. Over the last decade he has attended several 1-3 month-long silent mindfulness retreats and is especially interested in the integration of mindfulness in athletics. Living through two bouts of lymphoma, which included a bone marrow transplant in 2007, Doug has also experienced first-hand the healing power of mindfulness.
Editors' note: Brimmer parents, guardians, and alumni are invited to attend the Keynote Presentation at 10:45 a.m. If you would like to attend the workshops or lunch, please contact the Development Office at [email protected]
Leave a Comment