Exploring Empathy and Ethical Thinking
At this year's opening convocation, Head of School Judith Guild announced the theme for the academic year: Empathy and Ethical Thinking.
With increasing numbers of students fighting for social justice and legislative reform, Guild said that the theme arose organically from within the School's community. An important part of political discourse, she emphasized, is empathy, which allows individuals to find common ground while considering other points of view.
"What happens when you're empathetic is you become a better person," Guild said. "You don't just help somebody. You actually end up growing as a person because it requires so much of you."
Last February, to peacefully protest racially insensitive behavior, approximately 16 students of color and several allies walked out during a morning assembly. In April, following the aftermath of the mass shooting at Stoneman Douglas High School in Florida, more than half of the Upper School participated in a walk-out, which, as event co-organizer Chloe Berlin '20 told those who attended, was aimed to "help perpetuate the shared standard of radical compassion."
This October, in light of the confirmation of Judge Brett Kavanaugh to the United States Supreme Court, Upper School students organized an intervention in the Ruth Corkin theatre, aimed to "to facilitate discussions around sexual violence, not to protest against the School," according to co-event organizer Paola Mammano '20.
The theme is intended to help the community avoid divisiveness, uniting faculty, parents, and students. Guild also hopes that students will continue to raise important questions, such as what doing the right thing means in a given situation and how to listen to different views.
"I think that it's a great theme to explore," said Libby Foley '20. "It really promotes good decision-making in our students, and really urges us to be better people who think about our actions."
According to Guild, sympathy can distance an individual from the suffering of others, while empathy requires an individual to understand and share the feelings of another.
"I think sympathy is something that can be done in a consistently deep, everyday way, but it can be interpreted as a little superficial," Guild said. "Empathy requires us to get into someone else's shoes and sometimes that can become a personal burden."
With devastating stories on the news, Guild encourages students to have sympathy but also try to empathize with others.
"Take recent Hurricane Michael, for example. It is easy to have sympathy for those who lost their homes, but it is more powerful to imagine yourself in the same position," Guild said. "Putting yourself in another person's shoes fosters understanding and encourages action."
Empathy is a "learned skill," Guild said, also noting that it is an important part of curriculum, especially in the humanities. In this regard, students can experience empathy in what they read, which requires one to "put themselves in the mind of a character," she said.
"It's one thing to sympathize with somebody, but it's completely different to actually put yourself in another person's shoes, to understand how they are thinking. In our would, we really need to understand that," Cara Rittner '19 said.
Guild also emphasized the importance of travel to foster empathy, as it allows for a better understanding of global issues.
In the fall, faculty heard from Dr. Kay Young, an English professor at the University of California, Santa Barbara, who shared how teaching literature is a pathway to learning empathy. She also spoke about how storytelling enhances the delivery of content in all disciplines. During the recent Board of Visitors Day, Dr. Pat Bryne, a philosophy professor at Boston College—and a former parent and Trustee—delivered a talk, "Importance of Philosophy, Empathy, and Ethical Thinking in Education."
For Nov. 13, the Parents Association has invited Dr. Helen Riess, author of The Empathy Effect: Seven Neuroscience-Based Keys for Transforming the Way We Live, Love, Work, and Connect Across Differences. 
Leave a Comment
About the Contributor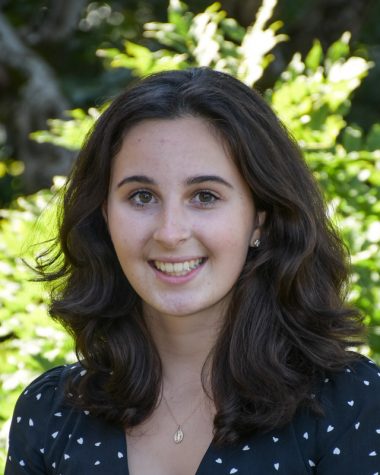 Camille Cherney, Co-Editor-in-Chief
When she's not editing stories, Camille enjoys playing tennis, baking, and singing. She loves being a student journalist because she can amplify her voice beyond the classroom.