Continued Travel Delays Impact Students, Teachers
We might be done with the pandemic, but the pandemic isn't done with us—including making travel chaotic.
America's major airlines have canceled more than 100,000 United States flights this year, as reported by the tracking service FlightAware—and in Europe, those numbers are doubled.
The lack of personnel on the ground, and in the air, continues to negatively impact…well, just about everything travel-related. In addition,  travel took a massive hit during the COVID-19 pandemic, especially the European airports that facilitate much international travel.
According to CNN, airlines received $54 billion in taxpayer assistance to help keep airports and aircraft staffed. However, most airlines still opted for early retirements or layoffs. When the summer wave and tourism came at full strength, airports lacked sufficient personnel.
As domestic airlines struggled with cancellations, European airports were also flooded with constant delays. The worst delays, according to CNN, occurred at airports in Frankfurt, Paris, Amsterdam, and London. However, by summer's end, many airports and airlines had rebounded to keep things running smoothly.
As airports struggled, so too did travelers.
Abigail Jacobs '25 shared her first time traveling internationally, during what the media has dubbed "the summer of hell."
Jacobs says she "flew into the eye of the storm" at London's Heathrow airport, though her family took all the precautions. Hearing about how much luggage got lost going through that airport, they stuck with their carry-ons and airtags.
Jacobs flew on a red-eye Virgin Atlantic flight, which contributed to a chaotic boarding experience, including delays.

After staying in London for a few days, Jacobs took the EuroStar from London to Paris, arriving at the Gare du Nord transit station. When arriving at St. Pancras International train station in London, Jacobs said, "while it was crowded security going through [the station], there was no line and it took 10 minutes to get from arriving at the station to getting to the terminal."
However, ground travel was not entirely unaffected; Jacobs said she also experienced a 1-hour delay in the train's arrival.
"I mean, whenever you travel, things happen, but I think it was a positive experience," Jacobs said.
Music Teacher Max Holman said he is a well-versed traveler. He began his adventure on a train from Boston to New York, then went to New Jersey to meet with his mom.
The pair then departed with Tap Portugal for Lisbon's Humberto Delgado Airport, next to Venice Marco Polo Airport, and finally to Naples, where he hopped on a ferry for Ischia. According to Holman, Venice and Newark were the two busiest airports he traveled through.
Holman said he "was aware and concerned about the delays and cancellations." On his way back to Boston, he even remembered seeing cancellations listed at Rome's Fiumicino airport.
"It was much smoother than we anticipated," Holman said. "I was almost ready for a delay to miss a flight. I was expecting the worst."
But his biggest concern was not missing a flight—it was feeling out when and where to mask.
"Especially when traveling, masks are a big thing to consider," Holman said, adding that Tap Portugal required masks on flights. However, once in Italy, he and his mom were the only passengers in masks flying from Venice to Naples.
Did you experience travel difficulties this summer?
Sorry, there was an error loading this poll.
Leave a Comment
About the Contributors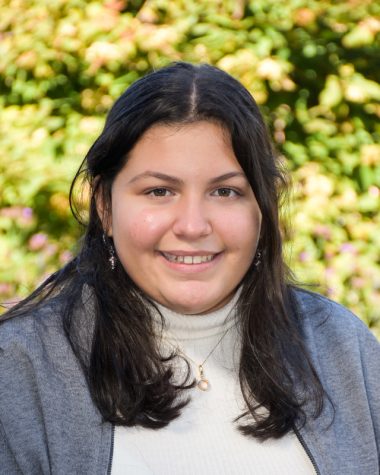 Giulia Laurenza, Journalist
Giulia has been a student at Brimmer for 3 years and this is their 1st year at The Gator. They are a part of the global studies diploma program and enjoy exploring language, culture, and travel. Their outside-of-school hobbies are crocheting, knitting, and baking.