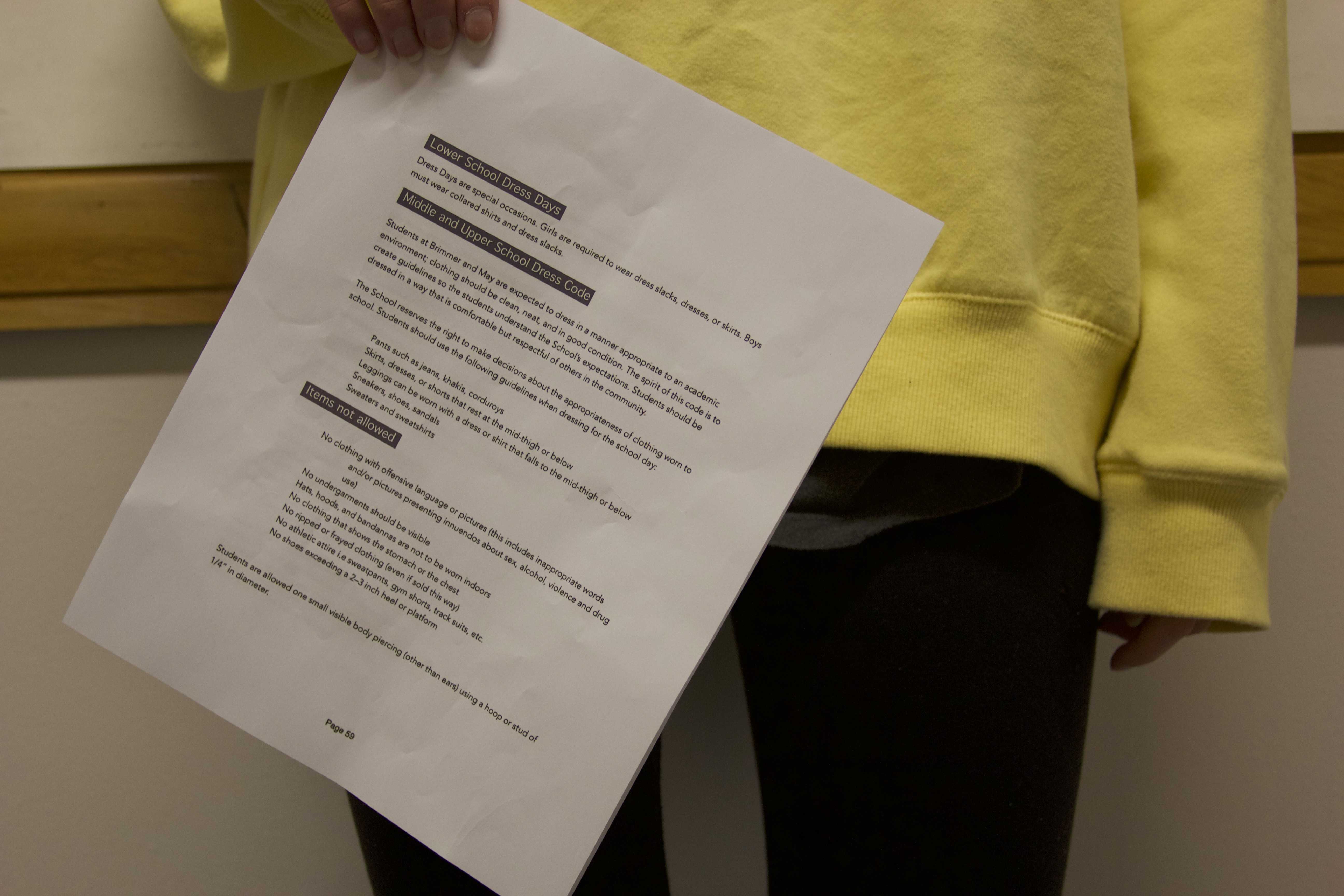 Over the past two months, Upper School Head Joshua Neudel and Director of Diversity Jessica Christian have been meeting with a small group of students to discuss Brimmer's leggings policy—and whether it should change.
"Leggings can be worn with a dress or shirt that falls to the mid-thigh or below," the student handbook reads, referencing the policy that the administration appears willing to reevaluate. Code violations are assigned at the discretion of administrators, which may result in detention.
Last month, students in Kelly Neely's Women's Studies class invited the administrators to further discussion.
"I feel like the policy is a bit discriminatory against girls," says Amy Nwachukwu '18, who added that boys don't have as many clothing restrictions. "There are a lot of ways to make leggings look appropriate for school."
Emma Hastings '19 echoed Nwachukwu's remarks. "I have seen boys at school wearing sweatpants and they don't get in trouble, but I have seen many girls get caught for wearing leggings," she said. "There is definitely a general inequality amongst gender involved with the dress code."
Christian says that the administration is "definitely open" to considering revisions to the dress code. Still, she noted that some students believe that the leggings policy is stricter than it actually is.
The handbook is explicit about what students cannot wear.
No clothing with offensive language or pictures (this includes inappropriate words and/or pictures presenting innuendos about sex, alcohol, violence and drug use).
No undergarments should be visible.
Hats, hoods, and bandannas are not to be worn indoors.
No clothing that shows the stomach or the chest.
No ripped or frayed clothing (even if sold this way).
No athletic attire i.e sweatpants, gym shorts, track suits, etc.
No shoes exceeding a 2–3 inch heel or platform.
Students are allowed one small visible body piercing (other than ears) using a hoop or stud of 1/4" in diameter.
Compared to some other private schools in the area, Brimmer seems to follow a more flexible dress code. The Landmark School in Beverly, for instance, requires students to wear collared or turtle neck shirts that are either white, yellow or navy, as well as solid colored khaki or corduroy styles pants with closed toed shoes.
Landmark also does not allow students to wear sweatshirts not purchased at the student store, or t-shirts or crewneck jerseys over collared shirts, clothing with writing on the back, any kind of facial jewelry, and no dreadlocks or shaved heads.
Middlesex School in Concord allows collared shirts, blouses, polo shirts, sweaters, and either pants or a skirt, but it restricts athletic wear and blue jeans.
[polldaddy poll="9648166″]