Gator Wins International Recognition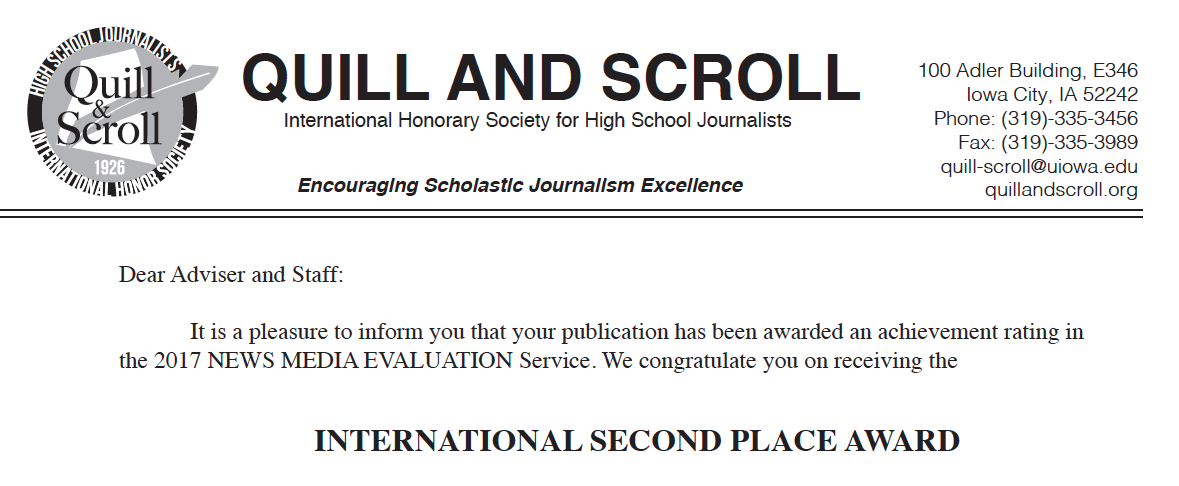 The Gator recently received an "International Second Place Award" from the Quill and Scroll, a prestigious international honorary society for high school journalists.
This marks the first time that The Gator has been critiqued on the world stage, against schools of every type and size from around the globe.
"We are thrilled and humbled by the high honor bestowed upon the newsroom, but we also appreciate the thoughtful suggestions on how to improve," said Editor-in-Chief Shani Brieman '18. "With new recruits, strong returning writers, and a renewed emphasis on broadcast journalism, we are confident that we can raise the bar even higher."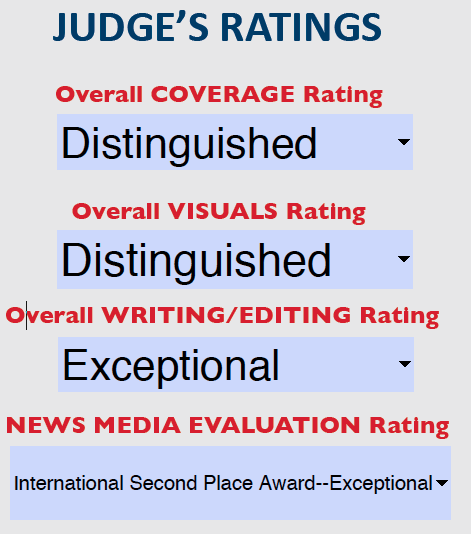 The newsroom received its highest marks under the writing and editing category, earning a rank of "exceptional,"
Judges also praised the quality of news coverage, but suggested that The Gator do more to update stories. "You have a lot of good news writing. This is your strength. You know how to tell a story and have a balanced approach to telling it," the judge wrote.
David Cutler '02, who advises The Gator and has a professional background in news reporting, says that he is most proud of this ranking.
"We certainly have areas that need improvement, but also it's nice to see that reporters really understand how to report and write a quality news story," he said. "If this critique makes one thing clear, it's that our reporters can write. The reassurance here is welcome."
The Gator received similar feedback for its opinion section, with the judge noting that "editorials do not necessarily have to be controversial and can be supportive, like the one on the schedule change."
The judge also suggested that The Gator include a written policy about editorials on its "About" page, letting readers know that such positions don't necessarily reflect the opinion of news writers.
With respect to feature writing, one judge wrote, "You have a strong foundation for features. You know what you want to do and how you are going to do it."
At the same time, the judge suggested that The Gator experiment with various writing formats, such as question and answer pieces, as well as launching a "Humans of Brimmer" page.
Judges were also impressed with the newsroom's sports coverage, especially given the constraints placed on The Gator's ability to cover after school events. "You interview multiple people, get good quotes and use strong verbs," the judge writes. "You have videos and photos to enhance your stories and you cover a lot of different sports, despite the difficulties. The stories flow well and in a logical manner. The writing itself is done well."
With respect to photography and other artwork, Michelle Levinger '18 received special recognition for her cartoons, which accompany a handful of news and opinion stories.
Leave a Comment