GNN: Reif Wins Championship Race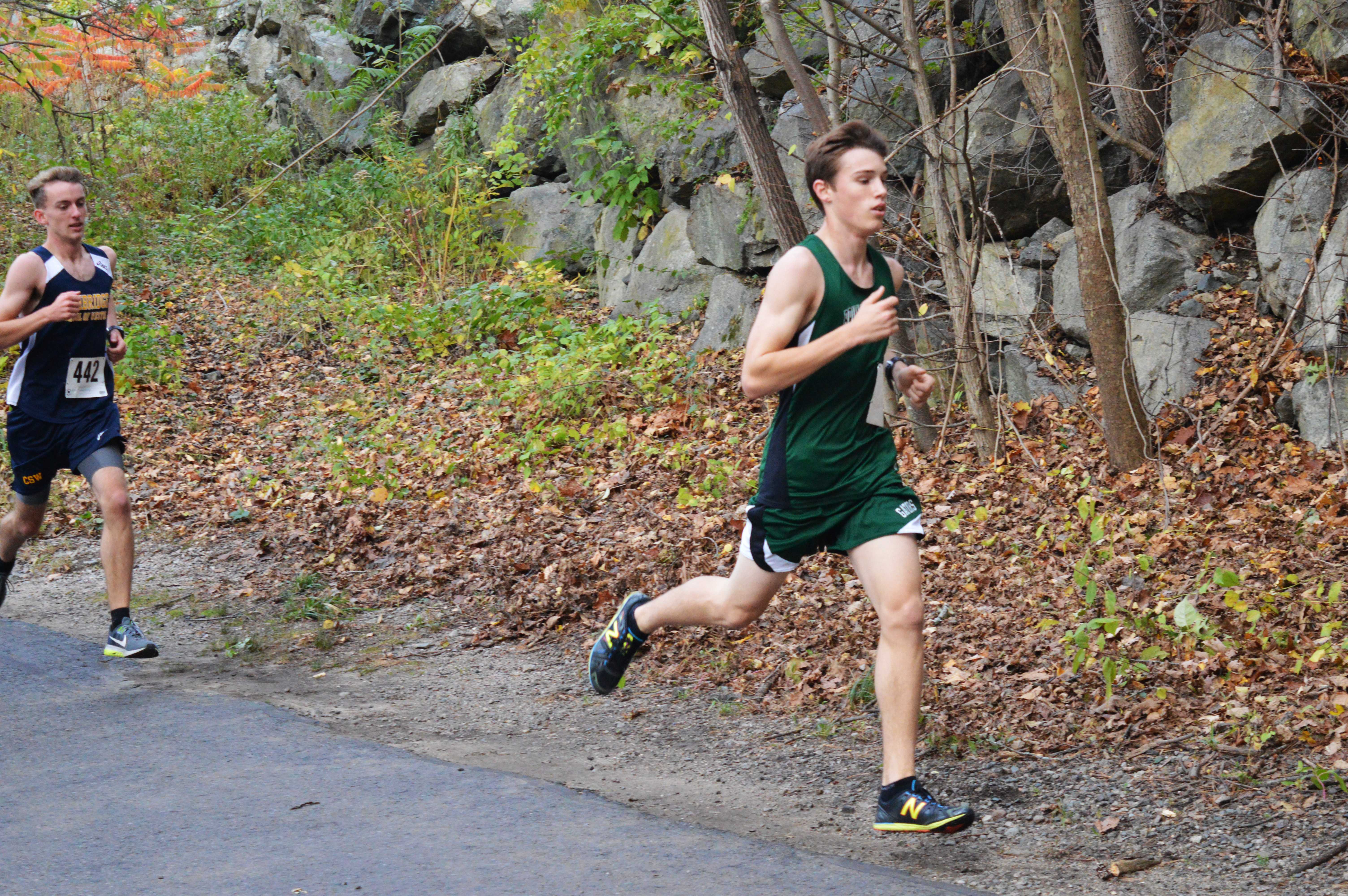 Continuing his season-long dominance, yesterday, in a field of 128 runners, Co-Captain Connor Reif '19 won the individual title in the Massachusetts Independent League (MBIL) Championship.
His time of 17:56 easily bested the second place finisher by 35 seconds, and he became only the second runner in league history to go under 18:00 on Chapel Hill-Chauncy Hall's challenging course.
Reif also earned a course personal best, finishing 32 seconds faster than his previous race at Chapel Hill-Chauncy Hall, just one week ago, and he was more than a minute and a half faster than he was in the championship race a year ago on the same course.  Furthermore, coaches from the nine participating teams unanimously elected Reif as the MBIL Most Valuable Runner.
The Gators, who won the previous four titles, earned third place behind Gann Academy and Chapel Hill-Chauncy Hall, respectively. Of particular note, the Gators finished just 17 points behind the league champion, a relatively small margin as the sport goes, as well as just 5 points behind Gann, which lost just one top runner from last season.
Team Manager Maya Bousek '19 feels that the team did "incredibly well," and that runners improved throughout the season.
"Considering how many top runners we lost last season, we placed really well in the championship race," she said.
"It felt really good to win, and to see all of my hard work pay off," said Reif, who won every league race this season by a margin of 30 to 90 seconds. "But I'm just as proud about how well my team did, with many runners earning personal bests."
Veteran Michael Donahue '19 finished in 20:21, earning a course personal best by a whopping 1:20.
"I felt good that I earned a personal record, but I didn't feel good about coming in at 19th," said Donahue. "I wish I could have done better."
Co-Captain Matthew Ayres '18 earned a personal best and a 9th place overall finish at 19:48. This earned him an "All League" designation.
"I feel like I deserved to be up there, even as I feel I could have run even faster," he said. "I'll miss the team, but I hope to run in college."
For her part, Kaityln Anderson '20 was the second girl to cross the finish line.
"Even more impressive to me is that she was only 20 seconds behind the girls' champion," said Head Coach Ted Barker-Hook. "For some perspective, Kaityln lost to that same girl by two minutes at Gann earlier this season. "
Barker-Hook was proud of his team, which showed remarkable improvement over the season.
"If you compare times from the start to the end of the season, as a team, we should feel really good about how far we came," he said. "For a squad that lost four of our top-five runners from a year ago, we did very, very well yesterday, and I'm very proud of all of the work the runners put in this year."
In this regard, Barker-Hook said that Richard O'Keefe '20 "fought harder than ever," and that his 20:48 time would have clinched a top-20 last season. Barker-Hook was also very impressed by Zakkai Mares-Van Praag '22 and Sophia Spring '22, who, as an 8th grader running with girls several years older than she is, claimed an "All League" designation.
"Sophia was almost two minutes faster than she was at last year's championship race on the same course, and Zakkai chopped an astounding 4:47 from his time a year ago," he said.
While the MBIL season is over, the Gators still have more racing to do. Runners will join Barker-Hook next week to compete in the Massachusetts Middle School Cross Country Invitational in Devens, and the varsity squad will head to Berwick Academy in Maine for the New England championships.
Leave a Comment