Op-Ed: Wow, Will Smith Slapped Chris Rock
Famed actor Will Smith has gone viral. Not for his now award-winning film King Richard, but for assaulting comedian Chris Rock on live television.
During the 94th Academy Awards, Rock was presenting the best documentary award.
While presenting the award, Rock was joking around and roasting celebrities in the crowd, which was a crowd-pleaser.
Jada Pinkett-Smith, who was a butt of one of Rock's jokes, suffers from Alopecia, a sudden hair loss disease. Rock's joke: "Jada I love you, 'G.I. Joe Jane 2,' can't wait to see it."
By the look of her reaction when the camera panned towards her, Pinkett Smith felt disrespected by Rock's joke.
Rock, however, was satisfied with his joke, as he jokingly commented, "That was a nice one," after seeing the negative reaction from his audience.
Will Smith, Pinkett-Smith's husband, and famed actor, then stormed onto the stage and slapped Rock across the face. Smith went back to his seat and yelled at Rock, "keep my wife's name out of your f***ing mouth" twice. The cameras censored the slap for viewer discretion.
Rock concluded the event by jokingly saying, "that was the greatest night of television in history."
Minutes later, Smith won the award for best actor for his movie King Richard.  Smith gave a tearful speech and apologized for the spectacle without acknowledging Rock.
Later, Smith posted on Instagram apologizing to Rock more directly in an official statement, as well as to the Academy and the audience for the scene. "I was out of line and I was wrong," Smith said.
In his apology, the actor said that he understood jokes were part of his life as a public figure, and that "violence in all its forms is poisonous and destructive".
The Academy has said that it may discipline the actor for the incident.
Both men were in the wrong. Rock's joke was out of line and was insensitive. Meanwhile, Smith should have used his words or another mature way but physically, on live television in front of millions of people, is just unacceptable.
It also sets a bad example to those who look up to Smith.
I personally think Chris Rock is a very funny man and it disappoints me that he made a joke at Pinkett-Smith's expense. I also find Smith inspirational and I was hoping he would think less impulsively. I am glad that both men acknowledge their mistakes, however.
If anything, I think Smith's behavior provides a framework for what not to do when you live under the spotlight.
Leave a Comment
About the Writer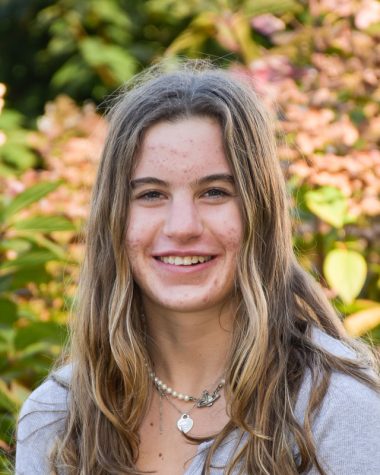 Sophia Bruno, Journalist
Sophia has been a member of The Gator since the spring semester of 2022; she focuses on op-eds about current global and national current events. In her free time, she enjoys staying active by running, playing soccer and lacrosse, and working out. When she is not doing that, Sophia enjoys spending time with friends, taking naps, eating, scrolling on TikTok, and binge-watching The Office.