Rapid Tests, New Masks: Winter Reopening Updates
Graphic by Edan Zinn '23. Photo courtesy of Nicole DeCesare.
This morning, the School opened its doors for the first day of classes after Winter Break. With the Omicron variant of COVID-19 continuing a surge in Massachusetts cases, the School's COVID Response Team has updated several health and safety policies.
According to Head of School Judith Guild, the School required students to take a COVID-19 rapid antigen test before coming to campus this morning, and the School mailed testing kits for faculty and staff to use over the break.
At a Middle and Upper School Morning Meeting on Monday, Guild asked students to have testing kits "at home at all times" and said that families unable to procure testing kits can be rapid-tested with industrial equipment in the gym.
The COVID Response Team will require students in grades 7-12 to take a rapid test again on Wednesday morning, and the School will test faculty and staff on Tuesday evening. Students in grades Pre-K through 6 will receive a weekly PCR test.
The School intends the updated testing schedule to add "an additional layer of protection as we learn that the highly transmissible Omicron variant has a 2-3 day gestation period," according to an email sent to families on Monday morning.
"
We're going to get through this, but no one ever said it wasn't going to be hard."
— Judith Guild, Head of School
"Upgrading our masks" is also one of Guild's priorities. In an email to families over the break, the COVID Response Team updated the School's mask policy, requiring students, faculty, staff, and visitors to wear N95, KN95, or KF94 masks while indoors.
The Monday email asks those waiting for new masks in the mail to double-mask with surgical and cloth masks until upgrading is possible. The School has also ordered a shipment of KN95 and KF94 masks to be made available on campus.
"These masks are okay," Guild said, pointing at a surgical mask, "but these masks are better," she added, showing a KF94 mask. Upper School Head Joshua Neudel provided clarity on the naming system of the medical-grade masks.
While Guild said that students have been vigilant with mask-wearing this year, she urged students to keep their masks on at all times and maintain a safe distance when eating indoors. Neudel and Middle School Head Carl Rapisarda-Vallely updated students with new indoor lunch locations to minimize the risk of COVID-19 transmission, with the outdoor café are also open for students to use.
The COVID Response Team also informed families that while afternoon athletics practices will still occur, games have been postponed for grades 4-8 until January 18, and Upper School games are on hold until next week.
Guild is hopeful that the community will prevail over the next few weeks with the new policies in place.
"We're going to get through this, but no one ever said it wasn't going to be hard," Guild said at Morning Meeting on Monday.
Editors' Note: This is an evolving story, which was most recently updated on January 3 at 2:30 p.m. 
Leave a Comment
About the Contributor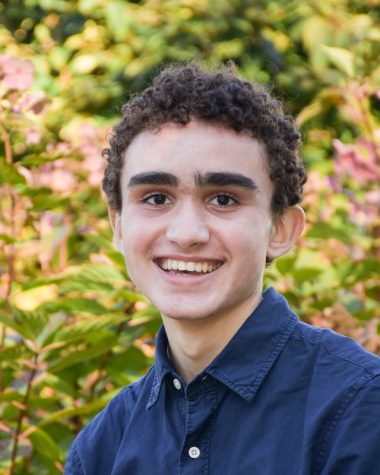 Edan Zinn, Outgoing Editor-in-Chief
Edan celebrated four years on The Gator's staff. In addition to editing stories, he also took photos for The Gator and was a member of the Creative Arts Diploma Program for Visual Arts. Edan finds photojournalism to be a fun method of artistic storytelling.