As COVID Spikes, Most Remain Maskless
Unlike for the previous two falls, this academic year School opened with a mask-optional policy to guard against COVID-19—and most are going without face coverings, even as Boston and its surrounding areas face another pandemic surge.
Dr. Bisola Ojikutu, commissioner of public health and executive director of the Boston Public Health Commission, is raising the alarm.
"This spike in our wastewater concentration is of great concern and another reminder that the pandemic is far from over," Ojikutu told reporters last week.
For Upper School Dean of Students Paul Murray, it's strange to be back at School without as many people wearing masks.
"It's a little off-putting because there are some students whose entire experience at Brimmer has been online or in masks," Murray said. "I've never been one to be concerned about being able to connect with students because of masks, but it's certainly great to see everyone's faces," Murray said.
Upper School Head Joshua Neudel feels that everyone's comfort level should be respected, regardless of masking choices.
"Different people are choosing to mask or not mask, and everyone has sort of figured out where their comfort level is over the summer," Neudel said. "People who are unmasked are worrying about that on a personal level, and masked people are worrying about that on a personal level."
Upper School Senate President Daniel Murray '23, who recently contracted COVID-19 despite remaining masked here, echoed Neudel's sentiments. He feels that it's easier to focus in class, especially now that most teachers and students are maskless.
"I feel comfortable that other students are maskless," Daniel Murray '23 said. "It's really a personal preference. I just had COVID, and so it's really to be safe, but I wore one before I got sick because I was worried I would get it."
Over the past two years, the School has focused much its energy on opening with advertising and enforcing pandemic precautions.
"This year's chaos was more about lockers and schedules as opposed to 'oh my goodness, people are standing too close," Paul Murray said. "All of that just helps people feel more comfortable."
As another sign of a return to normalcy, last month, the Upper School returned to Camp Windgate*Kirkland for the first time in three years, to experience community bonding.
Last year, the School ran a shorter orientation program with Project Adventure instead of an overnight trip.
"I think having time outside the classroom where there's intentional programming that can bring people together is important for building bonds," Neudel said.
Escobar is also happy to see the overnight trip return.
"I hope that it's a springboard to making better friendships and broadening our social circle because we have more Upper School students than we've ever had in the past," Escobar said.
With few adults and students in masks, however, Escobar predicts a "more brutal" flu season. While there is still "no cause for panic," she said, community members continue to test positive for COVID. Allergies have also been particularly bad this season, and an everyday cold is also circulating on campus.
Some students, mainly those with an underlying health problem, have expressed concern about unmasking.
"That makes these people anxious because they feel more vulnerable to what's out there."
Escobar also said that some community members had approached her with concerns about the virus and personal anxieties.
Leave a Comment
About the Contributor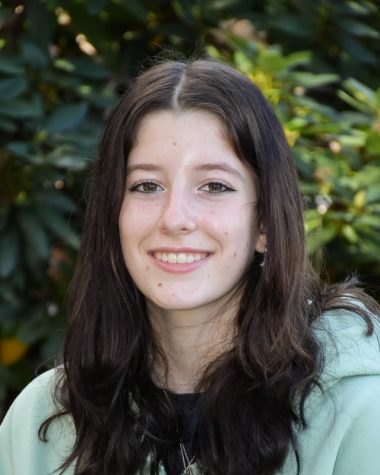 Amelia Bowman, Editor-in-Chief
Amelia has been at Brimmer since 2020 and this is her second year with The Gator. She enjoys writing op-eds, current events, and reviews. She enjoys reading, watching horror movies, and rock climbing.